'Legends Of Tomorrow' Will Feature A Young George Lucas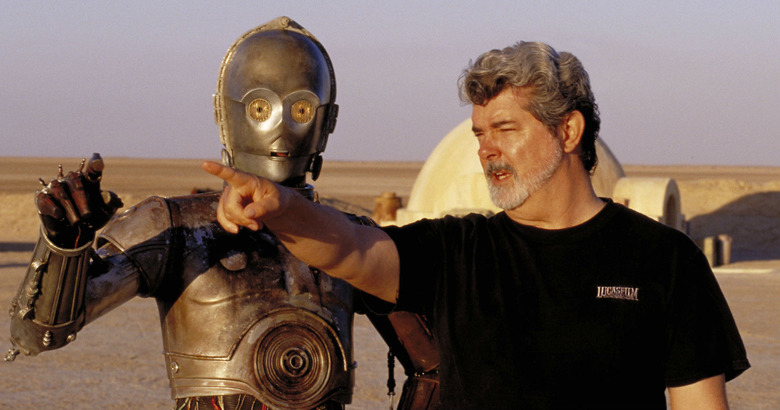 It's not just Star Wars actors who get dramatically de-aged through Hollywood magic. Sometimes it happens to Star Wars creators, too. A young George Lucas will reportedly appear in an upcoming episode of Legends of Tomorrow, with a significant change in his early career proving to have drastic effects for all the Legends. In Lucas' case, however, it won't be CG wizardry that makes him young again — instead, the show has cast Sweet/Vicious actor Matt Angel to portray him.
Find out exactly what the Legends of Tomorrow George Lucas episode will be about below. 
A few weeks ago, the Legends of Tomorrow midseason finale revealed that Rip Hunter (Arthur Darville) was working as a filmmaker in 1967 Los Angeles. Next month's winter premiere ("Raiders of the Lost Art," airing January 24) will delve deeper into Hollywood history, with the Legends taking on an aberration that has particularly disastrous effects for Ray (Brandon Routh) and Nate (Nick Zano). Executive producer Marc Guggenheim explained the plot to Entertainment Weekly:
Because of circumstances, the time aberration in episode 209 is George Lucas quits film school. As a result, he never makes Star Wars or Raiders of the Lost Ark. As a result, Ray, who became an engineer because of Star Wars, and Nate, who became a historian because of Raiders, slowly start to lose their brilliance, because those things that inspired them to become who they are didn't exist.
If you think that sounds kind of nuts, Guggenheim agrees:
We were watching a cut of it, and I said to Greg [Berlanti] that 209 is either going to be the episode where we'll say that the show found a new gear in terms of how zany it can be, or it's the episode that's going to get us all fired. It really is. You're laughing out loud, I think with it, but it's like, 'Are we really doing this?' It's the '70s bar fight on steroids. The whole episode is that level of crazy.
As for the actor who'll play him, Matt Angel, here's what he looks like. He's the one in the Superman costume, which seems appropriate enough now that we know he's about to appear on a DC superhero series.
We may have put these together in five minutes but this is Halloween done right. #ClarkKent #Superman #ManInBlack #ClarkKentInBlack #ThatsAHighlighterWrappedInFoil
A photo posted by Matt Angel (@mattangel1090) on