New 'Logan' Poster & Image: The Sun Sets On Hugh Jackman's Time As Wolverine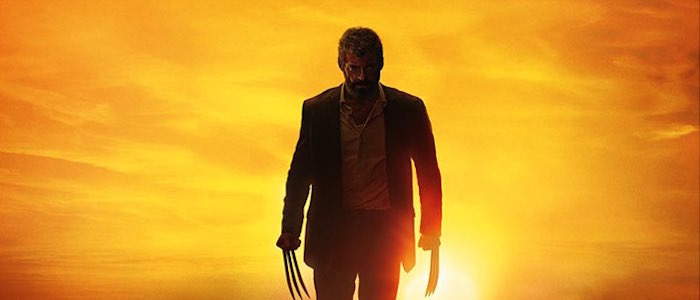 As we're all aware by now, Logan is Hugh Jackman's very last film as Wolverine — a role he's been playing for a decade and a half now, starting with 2000's X-Men. That fact adds an extra layer of poignancy to what already looks like a very bittersweet film, which in turn should make this movie even more of a must-see for fans. So the 20th Century Fox marketing team is leaning into it, hard, with a new Logan poster and a new Logan poster that literally show the sun setting on Hugh Jackman's time as Wolverine. Check 'em out below. 
Jackman shared the new Logan poster on Twitter. It's got a real "cowboy riding off into the sunset" feel to it, as befits the film's western vibe. Except of course that Wolverine seems to be walking away from the sunset, not into it. Symbolism? Or just a better way to show off the leading man?
Sunset. LOGAN. 3.3.17. pic.twitter.com/nl7mN43Tol

— Hugh Jackman (@RealHughJackman) December 28, 2016
The new Logan photo also prominently features a sunset, though it seems to be from a bit later in the evening.
@mang0ld pic.twitter.com/ZLfpJmqJbc

— Hugh Jackman (@RealHughJackman) December 27, 2016
Logan picks up with a much older Wolverine. His X-Men days are behind him and his powers are in decline, which means he's constantly in pain. Also struggling is Professor X (Patrick Stewart), who is under Logan's care. They're called back into action when they meet Laura (Dafne Keen), a young mutant who needs their help.
I got to see the entire first act of Logan at Fox's recent footage showcase event in New York, and while I'm not allowed to say too much about it yet, I was allowed to tweet about it at the time.
Just saw first act of #Logan. Wait til you guys meet Laura (X-23) — she steals every scene she is in.

— Angie J. Han (@ajhan) December 8, 2016
#Logan is violent and sad. Definitely earns that R rating. Doesn't feel like a comic book movie — really does feel like a modern Western.

— Angie J. Han (@ajhan) December 8, 2016
And here's what a few other folks had to say about it.
"I wanted to make LITTLE MISS SUNSHINE with Marvel characters and violence." – James Mangold on #LOGAN

— Courtney Howard (@Lulamaybelle) December 14, 2016
#Logan... doesn't really feel like an X-Men movie. Mean that in a good way. More of a Western/Mad Max Fury Road vibe.

— Rebecca Pahle (@RebeccaPahle) December 8, 2016
Based on the first act, #Logan is a western with a hard-R and true grit. I want more. NOW. #foxshowcase pic.twitter.com/Gc0Kuz1uvf

— Kristy Puchko (@KristyPuchko) December 8, 2016
I should have much more to say about Logan in the not-too-distant future, and I expect a trailer will probably come along pretty soon as well. Watch this space. Logan is out March 3, 2017.