Carrie Fisher Heart Attack Updates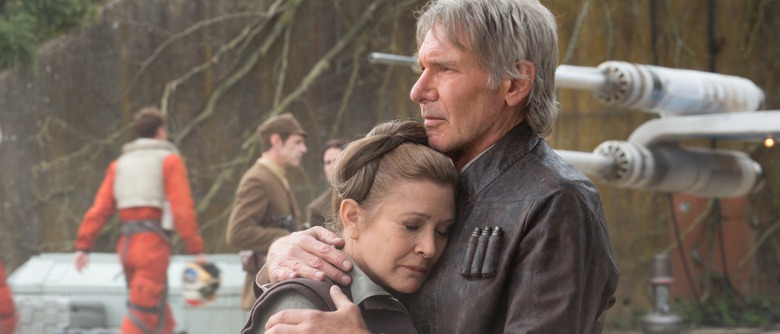 Actress Carrie Fisher has reportedly suffered a massive heart attack on Friday afternoon on a transatlantic flight from London to Los Angeles while returning from promoting her new book. We have updated the Carrie Fisher heart attack story after the jump.
Carrie Fisher Heart Attack Updates
Dec 26 5:30am update: Carrie Fisher's mother Debbie Reynolds, just posted an update on Facebook confirming that Carrie is now in stable condition: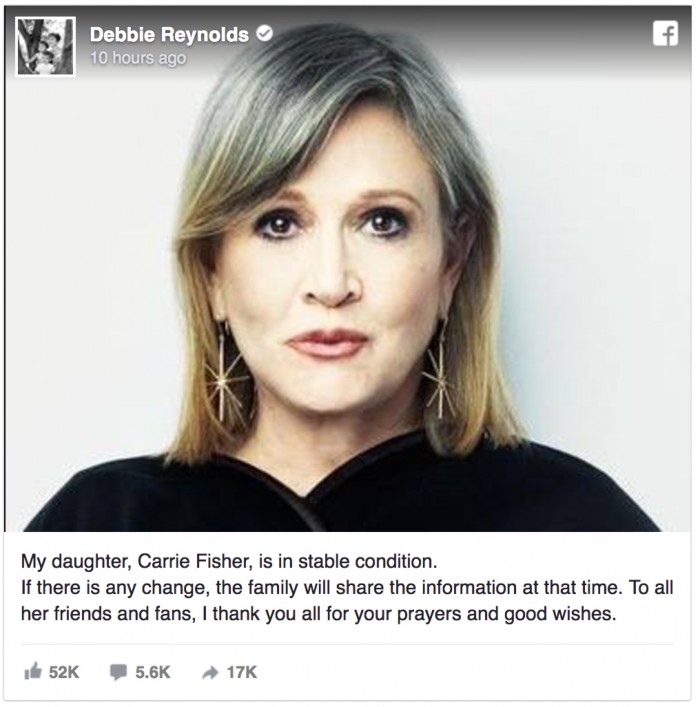 Dec 23 6:00pm update: Carrie Fisher is now in the intensive care unit of a Los Angeles hospital, but her condition is not known at this time. Fisher's brother Todd told ET that  "If everyone could just pray for her that would be good. The doctors are doing their thing and we don't want to bug them. We are waiting by patiently." ... "We hope for the best. We certainly do not know her condition, that's why she is in ICU. I'm sure everyone wants to speculate, but now is not the time for that."3:00pm update: NBC Los Angeles reports, "She was in full cardiac arrest on the plane" and that a law enforcement official said "her condition was 'not good.'" TMZ reports that paramedics reported worked on Fisher for 15 minutes with CPR before they were able to get a pulse. Fisher is currently at UCLA Medical Center on a ventilator. Our original story follows:
Carrie Fisher Suffers Major Heart Attack On Plane
The actress, best known for her role as Princess Leia in the original Star Wars trilogy, went into cardiac arrest near the end of the flight. Medically-trained passengers on board administered CPR for the final 15 minutes before the plane landed at LAX. Passengers reportedly on board the plane claim that the actress was not breathing for ten minutes, and they were administering CPR up until the moment the plane landed. The aircraft landed and paramedics rushed Fisher to a nearby hospital.
According to an audio recording between airline staff and air traffic control, which you can listen to embedded below, Fisher was not responding from efforts to revive her.
"We have some passengers, nurses assisting the passenger. We have an unresponsive passenger, so they're working on her right now."
We have no further information at this time, but our thoughts are with Fisher and her family. We will update this post when we hear more, but for now, we wait and hope that everything is okay. May the Force be with her.
Fisher's other film roles include Shampoo (1975), The Blues Brothers (1980), Hannah and Her Sisters (1986), The 'Burbs (1989), and When Harry Met Sally... (1989). She recently completed work on the eighth installment of the Star Wars series directed by Rian Johnson, following JJ Abrams' Star Wars: The Force Awakens that featured Fisher reprising her role as Leia Organa.