'xXx: Return Of Xander Cage' Clip: Vin Diesel Chases Donnie Yen Off-Road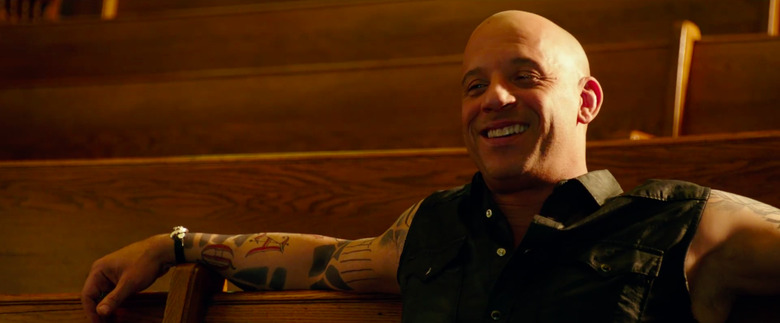 Over 14 years after the release of the original xXx, is Xander Cage a character audiences remain interested in? We'll soon find out when Vin Diesel returns to the role next month in the D.J. Caruso-directed sequel, which co-stars Samuel L. Jackson, Ruby Rose, Tony Jaa, Toni Collette, and Donnie Yen. So far we've seen Cage pull off plenty of wonderfully ridiculous feats in the trailers for the film, and the newest xXx: Return of Xander Cage clip gets, as fans probably hope for, ridiculous real fast.
Below, watch the xXx Return of Xander Cage clip.
Although he was killed off in the bonus features for xXx: State of the Union, Xander Cage is alive and well in the third addition to this series. After over eight years of talking about the sequel, Diesel and all involved finally made it happen. Samuel L. Jackson returns to the role of Agent Augustus Eugene Gibbons, who provides Cage and his team, which includes Rose and Nina Dobrev, with a mission. Cage finds himself smack dab in the middle of a conspiracy that involves some of the most powerful people on Earth, but, since this is Xander Cage we're talking about, that's not too much trouble for the adrenaline junkie.
Here's the xXx: Return of Xander Cage clip:
The close-ups of Diesel and Yen feature some distracting, and perhaps unfinished, green-screen work. Based on what we've seen from the sequel, Caruso is relying mostly on practical effects and real stunts, but it looks like this particular set piece required plenty of CG. The trailers also tease that this chase is going to get a whole lot more ridiculous in the finished film.
Here's the official synopsis for " the third explosive chapter of the blockbuster franchise that redefined the spy thriller":
The third explosive chapter of the blockbuster franchise that redefined the spy thriller finds extreme athlete turned government operative Xander Cage (Vin Diesel) coming out of self-imposed exile and on a collision course with deadly alpha warrior Xiang and his team in a race to recover a sinister and seemingly unstoppable weapon known as Pandora's Box. Recruiting an all-new group of thrill-seeking cohorts, Xander finds himself enmeshed in a deadly conspiracy that points to collusion at the highest levels of world governments. Packed with the series' signature deadpan wit and bad-ass attitude, "xXx:RETURN OF XANDER CAGE" will raise the bar on extreme action with some of the most mind-blowing stunts to ever be caught on film.
xXx: Return of Xander Cage opens in theaters January 20, 2017.