'T2 Trainspotting' Featurette: What's New With Spud These Days?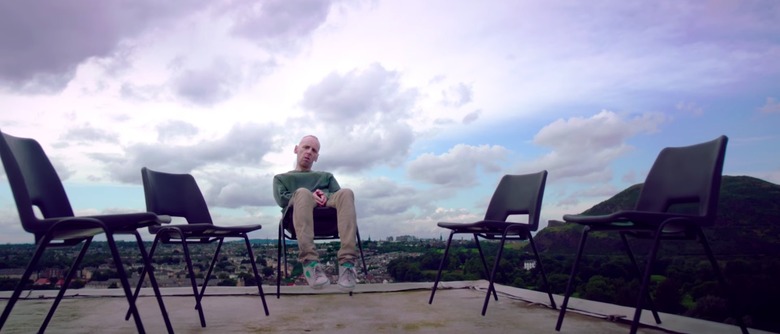 Renton (Ewan McGregor) hasn't visited home in 20 years. He no longer takes heroin, but he's a bit lost, feeling guilty over leaving his friends behind. Spud (Ewen Bremner), who still struggles with drugs and life, is one of those dear friends Renton returns home to help in director Danny Boyle's long-awaited sequel, T2 Trainspotting.
Below, watch another T2: Trainspotting Featurette.
The original gang — Renton Spud, Sick Boy (Jonny Lee Miller), and Begbie (Robert Carlyle) — are together again. The original film and these characters are now two decades older, and for some of the characters, it doesn't look like a whole lot has changed. Spud still isn't doing well, and he is not feeling as invincible as he used to. Spud, of course, originated from the mind of author Irvine Welsh, but this John Hodge-scripted sequel doesn't share a lot in common with Welsh's 2003 Trainspotting sequel, Porno.
Here's Bremner explaining the Spud we'll see in the film:
Renton's new addiction is endorphin, so he's mad about running, so the fact that he gives Spud a pair of running shoes is both funny and sweet. There's been a surprising amount of sweetness to the footage we've seen from this sequel so far. T2: Trainspotting looks like a significantly more heartwarming story compared to the original film. Considering the subject matter and the characters involved, though, we can probably expect some horrific moments to go along with Boyle's often uplifting sensibility.
Seeing this ensemble, including Kelly Macdonald, back together remains a joy. It's especially great seeing McGregor and Boyle working together again. After Shallow Grave, Trainspotting, and A Life Less Ordinary, it's unfortunate it took them this long to make another movie. Hopefully after T2 Trainspotting we won't have to almost 20 years again to see them collaborate again.
Here's the official synopsis for the sequel:
First there was an opportunity......then there was a betrayal.
Twenty years have gone by.
Much has changed but just as much remains the same.
Mark Renton (Ewan McGregor) returns to the only place he can ever call home.
They are waiting for him: Spud (Ewen Bremner), Sick Boy (Jonny Lee Miller), and Begbie (Robert Carlyle).
Other old friends are waiting too: sorrow, loss, joy, vengeance, hatred, friendship, love, longing, fear, regret, diamorphine, self-destruction and mortal danger, they are all lined up to welcome him, ready to join the dance.
T2 Trainspotting opens January 27th, 2017 in the U.K. & Ireland and a limited release on March 3rd, 2017 in the US followed by a wide release on March 10, 2017.