'War On Everyone' Trailer: Michael Peña & Alexander Skarsgård Are Terrible People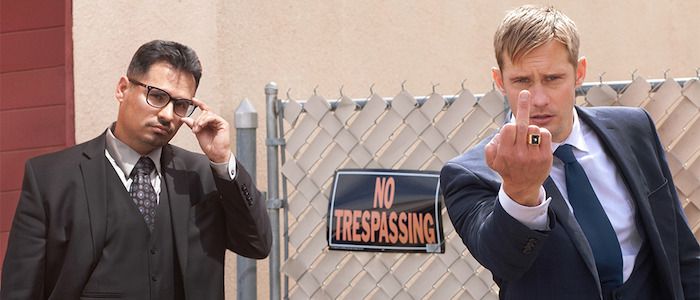 Michael Peña's only 2016 release was Collateral Beauty. Alexander Skarsgård had Zoolander 2 and Legend of Tarzan. Needless to say, this has not been a great year for them. Thankfully, their 2017 already looks way more promising, thanks to the upcoming release of War on Everyone.
Directed by John Michael McDonagh (Calvary, The Guard), this dark comedy stars Peña and Skarsgård as a pair of cops working in New Mexico. But don't assume they're the good guys — this pair is so crooked, even the criminals they deal with seem taken aback. When they get mixed up with a strip club manager (Caleb Landry Jones) and his even shadier boss (Theo James), they realize they may be in deeper than they'd intended. Tessa Thompson also stars. Check out the War on Everyone trailer below. 
War on Everyone Trailer
War on Everyone toured the festival circuit this year, collecting some pretty solid reviews. I'm getting a real Nice Guys vibe from the trailer, but the word is that War on Everyone is even darker and meaner than that. The Guardian describes it as "bitingly funny and unapologetically offensive," while We Got This Covered describes a "rinse and repeat" pattern of "cringe, and then laugh." That kind of humor requires a deft balance on the part of the filmmakers — and even at its best, it's bound to turn some people off — but if you're the kind of person who takes pride in your misanthropy and cynicism, this one might be for you.War on Everyone hits DirecTV on January 5, 2017 and will be available in theaters and on demand starting February 3, 2017.
TERRY (Alexander Skarsgård) and BOB (Michael Peña)are two crooked cops who frame and blackmail criminals all over town. Looking for the ultimate pay-off, they try to extort  a strip-club manager (Caleb Landry Jones) and his eccentric, junkie boss, (Theo James), but get more than they bargained for when their hair-brained scheme uncovers a bigger, darker secret.