'Fargo' Season 3 Adds 'Harry Potter' Actor David Thewlis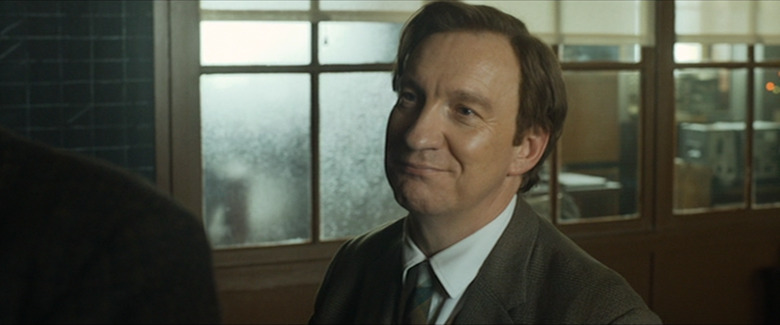 As if the cast of Fargo season three weren't good enough already, the extraordinarily talented David Thewlis (Naked, Harry Potter) has been enlisted to play a mysterious loner on the hit series. Thewlis is in good company, as he's joining the likes of Ewan McGregor, Carrie Coon, Mary Elizabeth Winstead, Jim Gaffigan, and others.
Below, learn more about the Fargo season three cast.
According to Entertainment Weekly, Thewlis will play a series regular in the next chapter of Fargo. His character is the bearer of bad news for the Parking Lot King of Minnesota, Emmit Stussy (Ewan McGregor). Thewlis' loner and "true capitalist" informs Emmit he's now partners with his shady employers. These new partners have some criminal ties, but what exactly illegal activities they're getting into is unknown.
McGregor is playing dual roles in Fargo season three. The Parking Lot King of Minnesota's twin brother, Ray (McGregor), lives his life with a big chip on his shoulder; he's bitter because of his brother's success. As for the law enforcement, Coon is the chief of police, and Gaffigan is her deputy. Winstead is set to play Nikki Swango, a "crafty parolee" and competitive bridge player. The rest of the ensemble also includes Scott McNairy (Halt and Catch Fire), who has a currently unknown role, and we might even see an appearance from a familiar face from season two — unless creator Noah Hawley has had a change of heart.
Since season three occurs only a few years after the events of season one, connections have been speculated, but nothing is confirmed. Hawley hasn't shared many plot details, but he's given fans some ideas of what to expect from the next chapter of Fargo (via Vulture):
It's a more contemporary story, and I think that's exciting. Our first year was set in 2006, but we didn't really deal with what it was like to be in that region in a more contemporary world. I like the idea that we're now living in a very selfie-oriented culture where people photograph what they're eating and put it up for other people to see. It feels like a social dynamic that is very antithetical to the Lutheran pragmatism of the region. So many of our crime stories are based on the difficulty that people have expressing themselves and communicating. In a lot of ways, the tragedies that are at the heart of these crimes could all be averted if Jerry Lundegaard (William H. Macy) could have asked his father-in-law for the money or if Lester (Martin Freeman) could have been honest about who he was, or Peggy (Kirsten Dunst) as well. I like the idea of setting up these pragmatic and humble people against the culture of narcissism and [seeing] what that generates for us, story-wise.
How Thewlis' character fits into this "culture of narcissism," if at all, we'll have to wait and see how, but he's another fantastic addition to the cast. Filming was expected to get underway last month on Fargo season three, but according to THR, it'll go before cameras sometime before the year ends.
Fargo season three debuts on FX in 2017.