'Snatched' Trailers: Amy Schumer And Goldie Hawn Go On Vacation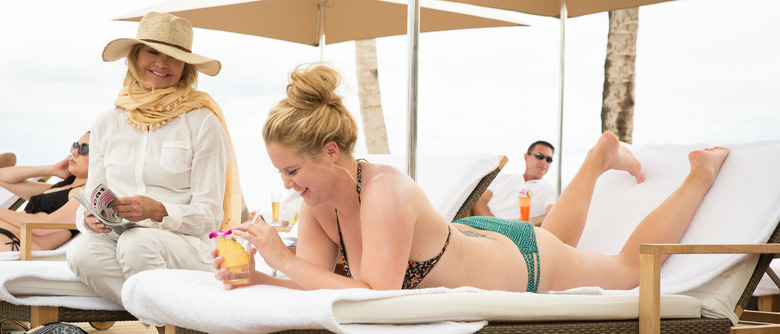 For the first time since 2002, Goldie Hawn is returning to the big screen. 20th Century Fox has just released the first trailers for Snatched, which stars her and Amy Schumer as a mother and daughter who go on vacation to "South America" (I don't think anyone in the trailers ever gets more specific than that), only to get kidnapped. But don't worry — it's a comedy, so everyone's probably going to turn out fine.
Snatched has a lot of interesting talent behind the camera as well, including director Jonathan Levine (50/50) and screenwriter Katie Dippold (The Heat). Watch two Snatched trailers — one red-band, one green-band – after the jump. 
Snatched Trailers
And here's the red-band version, which is NSFW for language but doesn't really show excessive nudity or violence or anything like that.
Hawn and Schumer sound like a pairing with lots of comedic potential, but I'm not quite sure the first Snatched trailers live up to that promise. They don't look bad, but there aren't a lot of laugh-out-loud moments. I also wonder if the film might turn out to be more bittersweet than the promos make it look, seeing as Levine seems to enjoy mixing some sadness into his comedies like 50/50 and The Night Before.
The first two Snatched trailers are really just a showcase for Hawn and Schumer, but they'll have a solid comedic cast surrounding them including Joan Cusack, Ike Barinholtz, Wanda Sykes, Christopher Meloni, and, as seen in above, Randall Park.
Snatched is in theaters May 12, 2017, which just so happens to be Mother's Day weekend. It might not look like typical mom fare, but then again, Snatched suggests moms contain hidden multitudes. Maybe your mother likes R-rated comedies more than you thought.