Watch Kevin Smith's 'Rogue One' Review [Warning: Spoiler-Filled]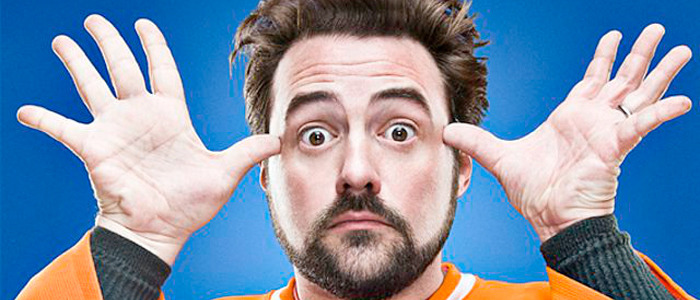 It's no secret that writer/director Kevin Smith loves Star Wars. So its no surprise that the Clerks/Mallrats filmmaker LOVED Rogue One: A Star Wars Story. He was one of the people we quoted in the Rogue One premiere early reactions, where he called it "Empire Strikes Back good!" And now in the latest episode of his Youtube talk show Fatman on Batman, Kevin Smith gives a spoiler-filled review of Disney's first Star Wars stand alone movie. What this has to do with Batman, I don't know. But you can watch the Kevin Smith Rogue One review now, embedded after the jump.
Kevin Smith Rogue One Review
As you might expect, the 46-year-old stoner filmmaker alongside Marc Bernardin have nothing but glowing things to say about Gareth Edwards' movie. So if you're looking for a Star Wars geek geeking out about Star Wars, this is the video to watch. Say what you will about Kevin Smith's recent films (Yoga Hosers was barely watchable) but I could listen to Kevin Smith talk about movies and Hollywood anytime. If you're looking for evenhanded criticism, look elsewhere (maybe my spoiler-free reaction or David Chen's video review).
I would highly recommend that you stay away from this review until after you've seen the film as its full on spoilers, no holds barred. Rogue One hits theaters nationwide tonight at 7pm, and I'm excited to see the movie once again.
From Lucasfilm comes the first of the Star Wars standalone films, "Rogue One: A Star Wars Story," an all-new epic adventure. In a time of conflict, a group of unlikely heroes band together on a mission to steal the plans to the Death Star, the Empire's ultimate weapon of destruction. This key event in the Star Wars timeline brings together ordinary people who choose to do extraordinary things, and in doing so, become part of something greater than themselves.
Directed by Gareth Edwards, Rogue One: A Star Wars Story stars Felicity Jones, Diego Luna, Ben Mendelsohn, Donnie Yen, Riz Ahmed, Mads Mikkelsen, Alan Tudyk, Jiang Wen and Forest Whitaker.
Rogue One: A Star Wars Story will be released in theaters on December 16, 2016.