Rumor: Megan Fox Eyed For Poison Ivy In 'Suicide Squad' Spinoff 'Gotham City Sirens'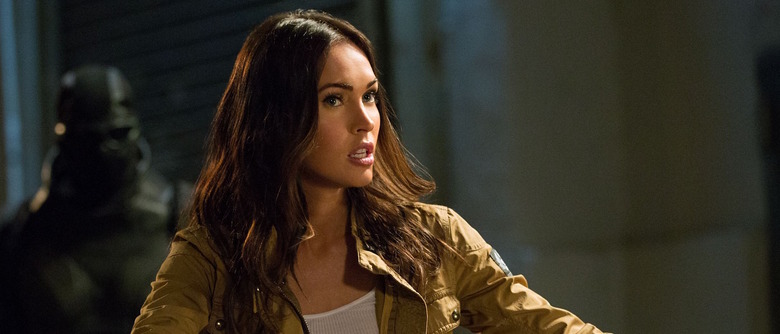 This week brought the news that Suicide Squad's David Ayer would be directing Gotham City Sirens, a female DC supervillain team-up. Margot Robbie's Harley Quinn is slated to return (and Robbie herself is an executive producer on the project), but the question now is which other characters could join her — and who might play them.
Well, it should come as no surprise that Harley Quinn's BFF Poison Ivy is believed to be involved in the movie, but what's more interesting is who's rumored to play her. According to a new report, Megan Fox might be circling the role. 
Just to be clear, this is very much just a rumor for now. With that said, Bleeding Cool is speculating that Megan Fox is looking to play Poison Ivy. They claim she's recently had some very interesting comic book titles shipped to her Warner Studios address, including Harley Quinn #14 and Harley Quinn #17, both of which feature Poison Ivy. And for what it's worth, Fox has said before that Poison Ivy is a character she'd like to play.
It's definitely possible that all of this adds up to nothing. Maybe Fox just felt like reading some comics. Maybe she's gunning for the role, but not in serious consideration yet. Even if she is in the mix, it could be a while before Warner Bros. and Ayer make any decisions. This is sure to be the first of many rumors about this film, so stay tuned.
While details on Gotham City Sirens are still sparse, Ayer has hinted that Catwoman could stand alongside Poison Ivy and Harley Quinn as one of the main characters. All three are prominently featured in the Gotham City Sirens comic books on which the film is based. The script comes from Geneva Robertson-Dworet, whose other works include the upcoming Tomb Raider reboot, Sherlock Holmes 3, and Dungeons & Dragons.
#Sirens4ever pic.twitter.com/sutAD9O4G7

— David Ayer (@DavidAyerMovies) December 14, 2016
Robbie is the one who got the ball rolling on Gotham City Sirens, after her research into Harley Quinn for Suicide Squad led to her becoming interested in DC's other female characters. She enlisted a writer to help develop the project and then approached Warner Bros. about making it a reality. The studio, naturally, was more than happy to get on board with a film featuring one of DC's most popular characters and starring one of Hollywood's most buzzed-about actresses.
Despite the severely mixed (to put it mildly) critical reaction to Suicide Squad, the film made a good chunk of money and Warner Bros. now has several follow-ups in development. Gotham City Sirens is the furthest along, but they're also working on a proper Suicide Squad sequel and a Deadshot spinoff featuring Will Smith.