'Pacific Rim' And 'Godzilla' Sequels Get New Titles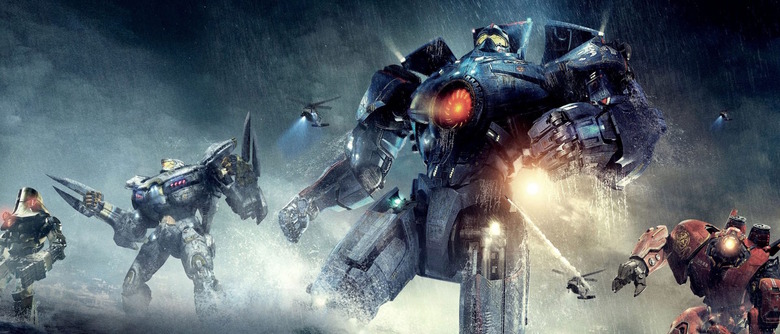 Pacific Rim: Maelstrom and Godzilla 2 are Pacific Rim: Maelstrom and Godzilla 2 no more, as Legendary has just announced new titles for both films. The former is currently in production with director Steven S. DeKnight and star John Boyega, and the latter is in pre-production with Krampus director Michael Dougherty. Find out the new Pacific Rim and Godzilla sequel titles below. 
Buried in a press release about Legendary's latest hires* was confirmation of the films' brand-new titles. The Pacific Rim sequel, previously titled Pacific Rim: Maelstrom, shall henceforth be known as Pacific Rim: Uprising. And Godzilla 2, which never had an exciting to begin with, is now called Godzilla: King of the Monsters.
I've gotta say, Pacific Rim: Uprising is a disappointingly generic title. "Uprising" up there with "Retribution" and "Revolution" in terms of one-word subtitles that sound really dramatic but don't actually convey any meaning. Sure, "Maelstrom" is kind of unfamiliar, but that's what made it memorable. Let's just hope the film itself is more interesting than the name makes it sound. Pacific Rim: Uprising is in theaters February 23, 2018.
As for Godzilla: King of the Monsters, it's clearly a nod to Godzilla: King of the Monsters!, the Americanized 1956 release of the original Japanese Godzilla. I'd also like to think the title is a snarky reference to Legendary's other major monster king, King Kong, since the two are set to clash in 2020's Godzilla vs. Kong. Maybe they'll be competing to see which one will emerge as the real king of the monsters. Anyway, Godzilla: King of Monsters is still in the early stages but is on track to open March 22, 2019.
* Oh, and if you're wondering about Legendary's new hires — which, after all, was the original point of the press release — here's the announcement:
Legendary today announced the hiring of three veteran production executives to its feature film operations including Herbert W. Gains, who has been named EVP of Physical Production, Valerie Flueger Veras who has been named SVP of Post- Production and Sara Flamm who will take on the SVP Physical Production role.