See The Criterion Collection Cover Art For Richard Linklater's 'Before' Trilogy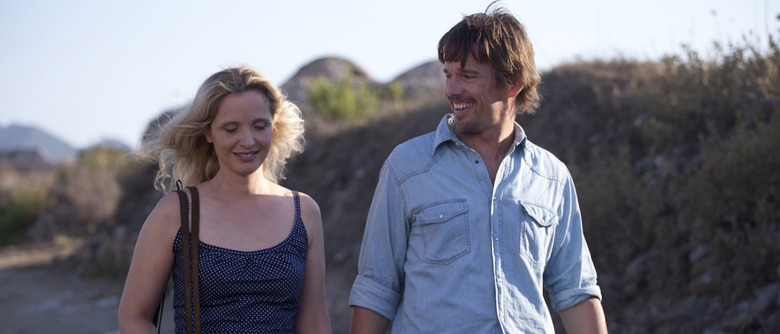 Last month we got the very welcome news that Richard Linklater's Before trilogy would be joining the Criterion Collection. While the director's Slacker, Dazed and Confused, and Boyhood are all part of the lineup already, it took Criterion a while to get around to tackling this one. But then again, Before fans are surely used to waiting — after all, it took nine years to get from each chapter of Jesse and Celine's love story to the next.
Now, the wait is almost over. With just a couple of months to go until the trilogy hits shelves, Criterion has released the cover art for all three movies as well as the box set. Check it out below.
First, here is the cover for the entire trilogy. According to The Independent, this marks the first time all three films have been available as one combined box set.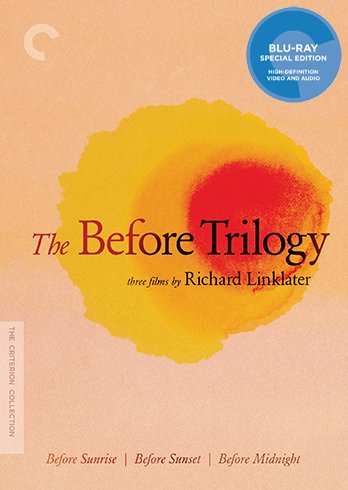 And here are the covers for the individual films, each featuring art of Celine and Jesse through the ages.
Any one of these films makes for a great romance in its own right. In fact, Before Sunrise was effectively a standalone for many years, and its perfectly ambigious ending served as a sort of litmus test for your views on romance. Either you believed they met up again, or you didn't. When Before Sunset was first announced, I dreaded getting a definitive answer to that question — only to find that Before Sunset, and Before Midnight after it, both managed to recapture the same magic that made the original so special, while building on it in different ways.
As wonderful as they are individually, though, they're even more astounding in comparison. Few filmmakers grapple with the passage of time quite as beautifully as Linklater does. Here, as in his incredible Boyhood, it's both the subject of the story and the tool used to tell it. It's not just Jesse and Celine who've aged two decades over the course of the series. It's also the actors who play them, Ethan Hawke and Julie Delpy, and we in the audience, and that knowledge packs an extra punch.
All of which is to say that I can't wait to revisit these films in Criterion form. The Before trilogy goes on sale February 28, 2017, and features the following:
New, restored 2K digital transfers of Before Sunrise and Before Sunset and a 2K digital master of Before Midnight, approved by director Richard Linklater, with 2.0 surround DTS-HD Master Audio soundtrack on the Before Sunrise Blu-ray and 5.1 surround DTS-HD Master Audio soundtracks on the Before Sunset and Before Midnight Blu-rays
New discussion featuring Linklater and actors Julie Delpy and Ethan Hawke, moderated by critic Kent Jones
Behind-the-scenes footage and interviews from the productions of Before Sunrise and Before Sunset
Audio commentary on Before Midnight by Delpy, Linklater, and Hawke
Dream Is Destiny, a 2016 feature-length documentary about Linklater by Louis Black and Karen Bernstein
New documentary about the making of Before Midnight in Greece by filmmaker Athina Rachel Tsangari
3×2, a new conversation between scholars Dave Johnson and Rob Stone about Linklater's work
Linklater // On Cinema & Time, a video essay by filmmaker :: kogonada
PLUS: An essay on the trilogy by critic Dennis Lim