WTF: Video Store Filled With 14,000 Jerry Maguire VHS Tapes Coming To Los Angeles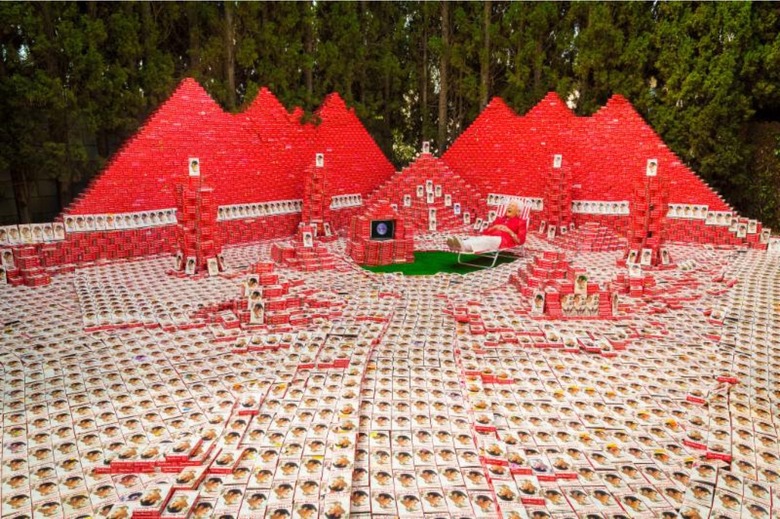 Have you ever wanted to walk into a video store filled only with VHS tapes of Cameron Crowe's 1996 hit Jerry Maguire? Well, Everything Is Terrible is making your dream into a reality.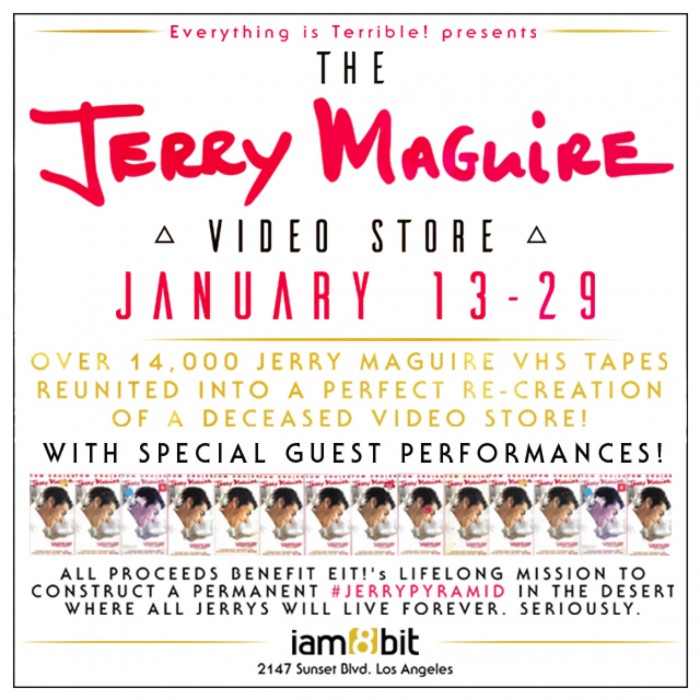 The video collective known for nine years of daily re-edited VHS-based web videos and their psychedelic features and live shows, has apparently amassed the world's largest collection of Jerry Maguire VHS tapes and will be turning the iam8bit Gallery in Los Angeles into a re-creation of an old video rental store, but filled entirely with Jerry Maguire VHS tapes. What is the point? We don't know, but we must see it in person and Instagram it, right?
The Jerry Maguire Video Store will be created at the iam8bit Gallery (located at 2147 Sunset in Los Angeles) from January 13th to January 29th, 2017. They are constructing a perfect re-creation of a video rental store circa 1996, but instead of carrying thousands of porn quadrilogies and action movie knockoffs, this store will carry only Jerry Maguire on VHS.
This absurd piece of long form performance art has been achieved solely through fan donations, with a current total of approximately 14,000 once beloved video tapes. The top Jerry VHS donor has given over 1,300 tapes, and each week there are piles of tapes arriving in the hands of very annoyed postal workers from fans around the world. ... Seeing thousands of Jerrys finally reunited will forever destroy the viewers' previous perception of culture, waste, and existence as a whole. The Jerrys are a beautiful thing. There will be free events (full list and RSVP links) on the opening and closing nights as well as ticketed events on the weekends of 1/14 and 1/21 featuring Chrome Canyon, Mike Diva, Daedelus, Caroline Goldfarb (OfficialSeanPenn), LA Takedown, Part Time, Kate Berlant, Wham City, DJ Douggpound, Versace Tamagotchi, Everything Is Terrible! Live, and more to come!
And this is only the lead to what Everything Is Terrible hopes to do with their Jerry Maguire VHS collection. See the photo by Jim Newberry in the header to get an idea of their grand plans.
EIT! will be unveiling the plans for their enormous, permanent pyramid in the desert where all the world's Jerrys will live until the end of time. Everything Is Terrible! has been working with a team of architects, engineers, and builders to design the epic monument to America's consumption. Now they need your help to make this stupid dream a reality. All proceeds from the Jerry Maguire Video Store will go towards the land, materials, and labor that are needed to build the Jerry Maguire Pyramid. If you can't come to Los Angeles, you can still help by making a financial donation at www.jerrymaguirepyramid.com and by mailing Jerrys to PO Box 50825, Los Angeles, CA 90050. This is the stupidest incarnation of the American dream and it must be realized.
We agree.