Netflix's 'A Series Of Unfortunate Events' Is "Shockingly Dark," Says Neil Patrick Harris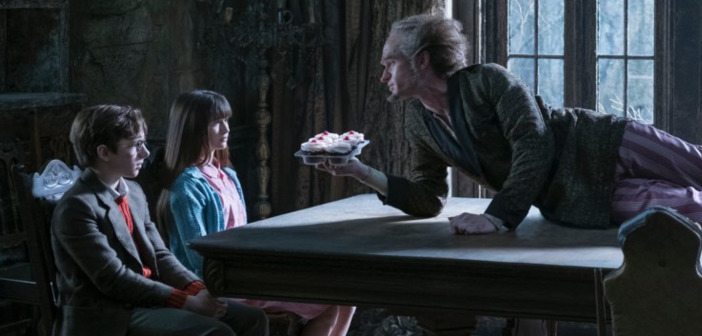 Lemony Snicket's A Series of Unfortunate Events gets dark. While director Brad Silberling's film stayed mostly faithful to the tone of the 13-part series, you can feel his 2004 adaptation sometimes holding back, and earlier cuts of the movie were apparently much darker. Author Daniel Handler's books have a sense of humor, but the jokes aren't always as broad as what we saw in the movie or what we saw in the previews for Netflix's new series. According to Neil Patrick Harris, who's playing the villainous Count Olaf, the show gets "shockingly dark."
Below, learn more about the Netflix's A Series of Unfortunate Events show.
Season one of the Barry Sonnenfeld-produced series is eight episodes long. Netflix is planning three seasons; two episodes will typically cover one of the 13 novels. The story follows Violet (Malina Weissman), Klaus (Louis Hynes), and Sunny Baudelaire after their parents perish in a tragic and mysterious house fire, leaving the children in the custody of Count Olaf. In The Night of the Hunter-inspired tale, Olaf and his theater troupe stop at nothing to steal the Baudelaire fortune.
A Series of Unfortunate Events is clearly a little darker than the average young adult series. Harris told Collider the show will remain faithful to the tone of the novels:
I think it's super faithful to the books. I think at times it's shockingly dark. From what I gathered, Netflix was concerned that adults weren't going to be able to value it because it was skewing towards a younger demographic. And I think now that it's done, they want to make sure the kids still value it and it's not gone too Stranger Things. I really wanted Olaf to be bad. To be a bad person.
Count Olaf is a real diabolical monster on the page, and that's exactly how Harris wanted to play the character:
I tried to just focus as much as I could on being as literary possible and try to honor how Olaf was described by Lemony [Snicket] and by Daniel Handler. So, a lot of piercing darkness and sort of delusional dementia. He thinks he's so handsome and he thinks he's incredibly charming and gifted as an actor, and yet he's not. So I didn't want to be overly charming, I wanted to be just awful. Distinctly mean. And then let the levity of the situation inform the takeaway for the viewer. I didn't want to make him like myself.
While Jim Carrey made for a very good Count Olaf in the 2004 film, the broadness of his performance sometimes detracted from the movie. Silberling's picture, as good as it is, leaned a little too heavily on comedy. You could tell they were trying to make a dark story more accessible to a mass audience. With Netflix's new adaptation, let's hope it's as "shockingly dark" as Harris says, because that sounds in tune with Handler's series.
Here's the official synopsis:
Based on the internationally best-selling series of books by Lemony Snicket (aka Daniel Handler) and starring Emmy and Tony Award winner Neil Patrick Harris, Lemony Snicket's A Series of Unfortunate Events recounts the tragic tale of the Baudelaire orphans — Violet, Klaus, and Sunny – whose evil guardian Count Olaf will stop at nothing to get his hands on their inheritance. The siblings must outsmart Olaf at every turn, foiling his many devious plans and disguises, in order to discover clues to their parents' mysterious death. The eight-episode series is a Netflix original production, executive produced by Emmy Award winner Barry Sonnenfeld and Daniel Handler, and also stars Patrick Warburton (Lemony Snicket), Joan Cusack (Justice Strauss), Malina Weissman (Violet Baudelaire) and Louis Hynes (Klaus Baudelaire).
A Series of Unfortunate Events debuts on Netflix on January 13th.