Trivia: Will Ferrell's 'Elf' Almost Starred Jim Carrey Instead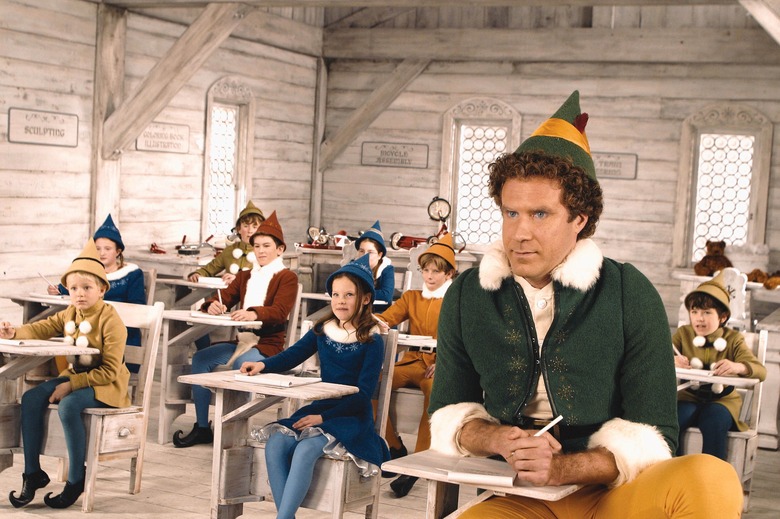 It's hard to imagine Elf without Will Ferrell. He brings the perfect manic man-child energy to the role of Buddy the Elf, turning him from a slightly creepy weirdo into a slightly creepy weirdo that we really, really like. But he didn't start out as the top choice for the role. The original star eyed for the lead was Jim Carrey. It was after Carrey moved on that the part went to Ferrell instead. 
This particular bit of trivia isn't a new one, but I don't think it's one we've ever featured before on /Film. And with the holiday season in full swing, it's making the rounds again.
Although Elf came out in 2003, the script by David Berenbaum had been circulating in Hollywood for about ten years before that. When it first appeared on the scene, Carrey — who at the time was about to get white-hot with Ace Ventura, The Mask, and Dumb and Dumber – was attached to star. However, as happens with so many projects, Elf got stuck in development. By the time it finally got off the ground with director Jon Favreau, Carrey had long since left it behind. So the film wound up with Ferrell, who was coming off of Saturday Night Live, and about to appear in Zoolander and Old School.
In some ways, it's easy to see how Carrey once looked right for the part. Buddy's goofy personality and sugar-high energy would play well to Carrey's strengths as a performer. But I think Ferrell was ultimately the better choice — Carrey's got an edge of menace to him that Ferrell doesn't. Then again, I suppose that's easy enough to say now since we've only ever seen Ferrell in the part. Either way, I think it's pretty clear that Carrey's casting would have made for a very different film.
Even though Carrey passed on Elf, he's still part of the holiday movie lineup that seems to flood our TVs each December. That's because while Elf was kicking around, Carrey made a different holiday movie, 2000's How the Grinch Stole Christmas. And he made another one in 2009, A Christmas Carol.
[H/T Geek Tyrant]