'La La Land' Wins Critics Choice Awards And Breaks A Box-Office Record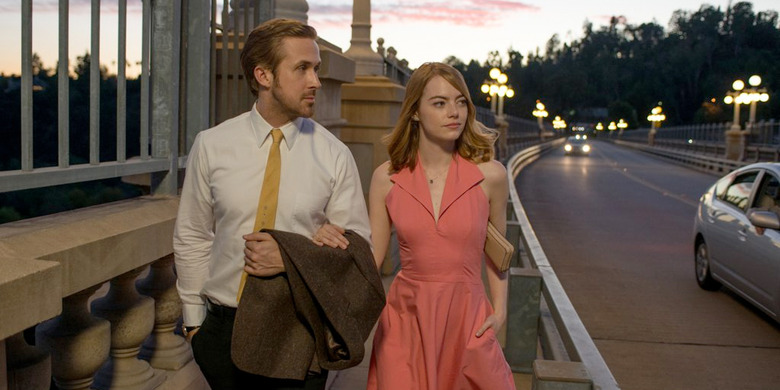 La La Land is a bittersweet feast for the senses. Damien Chazelle's (Whiplash) original dance musical stars Emma Stone and Ryan Gosling as struggling artists and lovers. Thankfully, their love story is registering with both audiences and critics right out of the gate. The film just had a hugely successful opening weekend and won Best Picture at the 2017 Critics Choice Awards.
Below, learn how well La La Land performed at the box-office and the Critics Choice Awards.
La La Land is only playing in five theaters in New York and Los Angeles. The film made $855,000 this weekend, which makes for an incredible per-location average of $171,000. That is the second best per-screen average for a "specialty film," according to Variety. Next weekend the musical expands into 200 more theaters before going wide around Christmas.
Variety and box-office believe the big-hearted film is coming out at just the right time and will have serious legs at the box-office. Lionsgate's head of distribution, David Spitz — I wish his last name were Spritz, too, fellow fans of The Weather Man – commented on the success of the feel-good movie:
It's a movie that you walk in the theater and you just feel great. It makes you feel terrific and that's a good thing right now.
While La La Land does have the capability of sending you out of a theater walking on air, it also has the strength to break your heart once or twice. There's sometimes a sense of pain to the awe and wonder of the film. It's not a phony feel-good movie, it's a truthful feel-good movie, which is a part of why it's as emotionally engaging as it is visually transfixing.
While not surprising but still disappointing to learn, a few studios passed on La La Land. There's a lot of trepidation when it comes to backing original musicals in Hollywood, but Lionsgate and Spritz believed in Chazelle enough to get behind the project, which is already appealing to a wide-range of filmgoers, Spritz notes:
This movie is playing literally to everyone. It's just a matter of people discovering the movie. It's going to play and play.
The movie certainly played well for the critics involved in the Critics Choice Awards. La La Land won Best Picture, one of its twelve nominations, which also included Best Director, Best Actor, Best Actress, Best Director, Best Original Screenplay, Best Song, Best Score, and more. Chazelle won Best Director and Best Original Screenplay, and these likely won't be the last awards he collects in the coming months. The film was also awarded for Best Score, Best Cinematography, Best Art Direction, and Best Song.
Here's the official synopsis:
Written and directed by Academy Award® nominee Damien Chazelle, LA LA LAND tells the story of Mia [Emma Stone], an aspiring actress, and Sebastian [Ryan Gosling], a dedicated jazz musician, who are struggling to make ends meet in a city known for crushing hopes and breaking hearts. Set in modern day Los Angeles, this original musical about everyday life explores the joy and pain of pursuing your dreams.
La La Land is now playing in limited release.