'The Last Word' Trailer: Shirley MacClaine And Amanda Seyfried Get To Work On An Obituary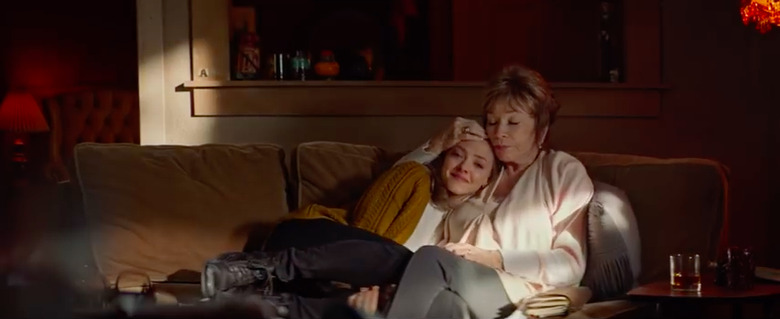 Next month Mark Pellington returns to the Sundance Film Festival. The last time the filmmaker attended the fest, he brought I Melt With You with him. That aggressive and bleak drama didn't receive the warmest of receptions, but it had its fans at the time. Pelling's new film, The Last Word, looks like a far more accessible movie, and it stars Shirley MacClaine and Amanda Seyfried.
Below, watch The Last Word trailer.
Harriet Lauler (MacClaine) doesn't want to leave her obituary to chance, she says, so she teams up with an obituary writer to make sure her story is told correctly. The writer, Anne (Seyfried), discovers Harriet hasn't had the most fulfilling life. The once successful businesswoman decides to make some changes in her life, which she wants Anne around to document. The dramedy co-stars Anne Heche (Cedar Rapids), Sarah Baker (The Campaign), and Tom Everett Scott (That Thing You Do!). The Last Word is also screenwriter Stuart Ross Fink's first produced feature.
Harriet and Anne develop a close bond this slightly overlong trailer maybe spoils a little too much of. You'd honestly be fine if you stopped watching this trailer at the 01:26 mark, but even what appears to be the third act heartstring pulling moments are rather charming in this The Last Word trailer:
MacClaine looks delightful, as expected. Over the past decade or so, she's continued to deliver some great performances. MacClaine's performance in Bernie is cold and hilarious, and she brings plenty of warmth and humor to the late Curtis Hanson's In Her Shoes – a Curtis Hanson film more people should've seen in 2005.
Pellington, who's directed plenty of memorable music videos in his career, has made a variety of movies throughout his career, including The Mothman Prophecies, Going All The Way, and, a thriller that's almost impossible not to watch when it's on cable, Arlington Road. He tries his hand at all different kinds of stories, and The Last Word looks like one of his more kind-hearted efforts.
Here's the official synopsis:
In The Last Word, Shirley MacLaine is Harriet Lauler, a once successful businesswoman in tight control of every aspect of her life. As she reflects upon her accomplishment, she's suddenly inspired to engage a young local writer, Anne Sherman (Amanda Seyfried), to pen her life's story. When the initial result doesn't meet Harriet's high expectations, she sets out to reshape the way she is remembered, with Anne dragged along as an unwilling accomplice. As the journey unfolds, the two women develop a unique bond which alters not only Harriet's legacy, but also Anne's future.
The Last Word opens in theaters March 3rd, 2017.