Hollywood In Talks With Apple To Offer Early Access To Theatrical Movies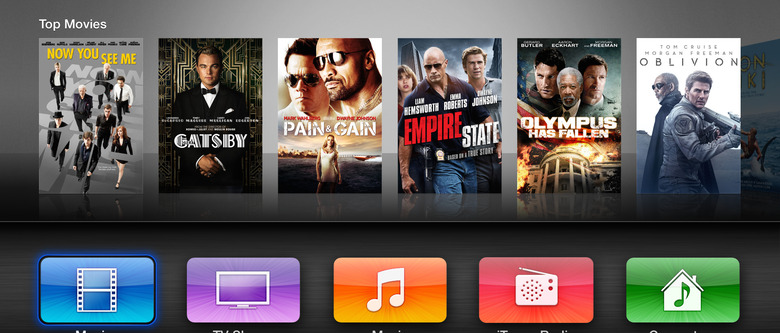 As much as the movie theaters hate the idea, it is only a matter of time before the exclusive theatrical window for major releases shrinks from months to weeks. This past year, Napster founder Sean Parker made waves by announcing a service called The Screening Room which would offer major theatrical releases on demand at home the same day they hit the big screen but at a big cost ($150 for access to a set-top box, and $50 per rental viewing). Exhibitors were not happy about the idea, and filmmakers were split over the prospect.
A new report claims that Apple is trying to convince Hollywood movie studios to give them early access to theatrical films, which would be offered for a higher price to iTunes and AppleTV customers. Would you be willing to pay $50 to watch the latest Pixar movie on the third weekend of release on your Apple TV? Learn the details after the jump.
The new report comes from Bloomberg, who has confirmed that Fox, Warner Bros., and Universal Pictures all met with Apple over the past week about a new plan that would allow iTunes/AppleTV customers access to higher-priced, home-video rentals of new theatrical movies shortly after they open in theaters.
"Some studio executives have been pushing to allow home rentals as early as two weeks after theatrical debuts and are considering a deal with iTunes as one option, said the people, who asked not to be identified because the discussions are private."
The fight for theatrical VOD has been happening for years, but adding a mega corporation like Apple to the mix might actually shake things up. The Hollywood movie studios typically give theaters exclusive rights to new movies for three months (90 days) or more before making the films available for rental or purchase.
The movie studios are interested in offering movies direct to the consumer as movie theater attendance has become stagnant. Consumers want greater freedom in consuming their media and offering theatrical films in the home may deter piracy, although I'm not sure a $50 price point would convince many people currently torrenting movies.
No word on what Apple is actually proposing, but the report suggests that premium-priced online rentals of new movies could cost $25 to $50. Apparently one of the concerns is that Apple might not have "a secure platform for delivering movies that are still in theaters."
Right now Apple encrypts iTunes video files, so they can't easily be duplicated, but it's very easy to subvert this by recording the movie off the computer or television screen. Screening Room's plan included using a watermarking technology that would make it easy to track down the source of a leak. I'm sure Apple would have to offer a similar assurance.
I think the big question is if consumers are willing to spend $50 to rent a theatrical movie in the comfort of their home. In the suburbs, that still equates to many multiples of the cost of two movie tickets for a married couple. In those markets, it's even more money than it would cost a family of four to see the latest Pixar film. Of course, in more urban settings the price is more appealing. In Los Angeles, tickets to a new movie can cost more than $20 a ticket depending on the theater, premium seats, the size of the screen and 3D up charge.