'Baywatch' Teaser Starring Dwayne Johnson, Trailer Coming Tomorrow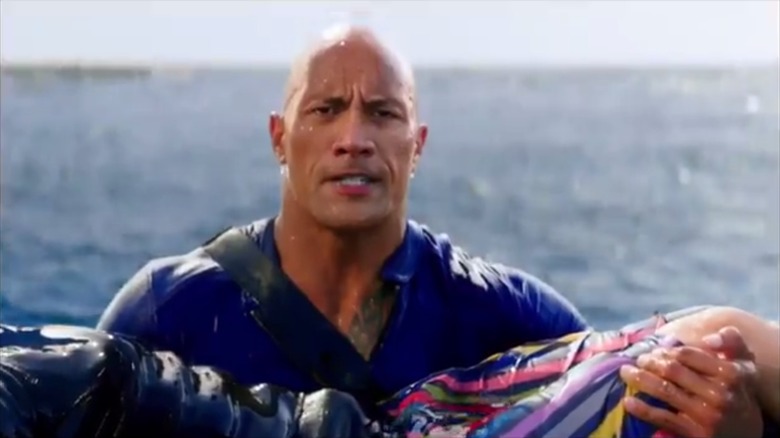 Dwayne Johnson has announced that tomorrow Paramount Pictures will be releasing the first trailer for Baywatch, which he describes as an R-rated "highly dysfunctional" "Avengers of the Beach". Hit the jump to see the Baywatch teaser.
Baywatch Teaser
The first look comes via The Rock's twitter account:
Tomorrow morning I'll launch our world premiere trailer of #BAYWATCH. Bad boy Rated R version. #AvengersOfTheBeach #AndHighlyDysfunctional🌊🔥 pic.twitter.com/2K0nQWdbLE

— Dwayne Johnson (@TheRock) December 7, 2016
The ocean's most powerful force will emerge tomorrow, December 8th 2016.
I got to see an early sizzle reel for the film at CinemaCon and was not impressed at all. I'm a big fan of Dwayne Johnson and most everything he does, and I reluctantly admit that I watched the original television show as a kid and was entertained by it. And I do believe that Baywatch has the potential for a Lord/Miller-style movie reboot, making fun of what the franchise has become known for. But what I saw just didn't make me laugh or excite me.
The early footage I saw was stylish and sexy, but the comedy duo of The Rock and Zac Efron just didn't seem to work for me. Maybe it's that the footage I saw relied too heavily on filthy hard-R humor (lots of boob and balls jokes) with very little substance. The clip of the trailer above seems to showcase the style that director Seth Gordon is taking with this film. I'm interested to see the full thing when it's released tomorrow and hope the early look was just too premature and I'm wrong about this film.
The Movie also stars Alexandra Daddario, Priyanka Chopra, Jon Bass, Kelly Rohrbach, Ilfenesh Hadera, Hannibal Buress and more. The official plot synopsis follows:
BAYWATCH follows devoted lifeguard Mitch Buchannon (Dwayne Johnson) as he butts heads with a brash new recruit (Zac Efron). Together, they uncover a local criminal plot that threatens the future of the Bay.
Baywatch opens nationwide next year on May 19th, 2017.