'Fifty Shades Darker' Trailer: Mr. Grey Will See You Again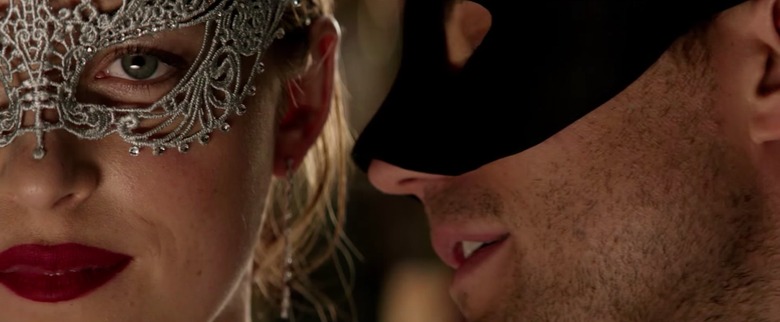 Fifty Shades of Grey ended with Anastasia Steele (Dakota Johnson) reconsidering the terms of her complicated relationship with Christian Grey (Jamie Dornan), but to the surprise of absolutely no one, Fifty Shades Darker finds the couple slipping right back into their old kinky habits. After all, there's no sequel if they break up for good. And if there's no sequel, there's no opportunity for Universal to make another gazillion dollars off this hot property.
However, there are a few key changes this time around. For starters, the new installment sees James Foley replacing Sam Taylor-Johnson as the director behind the camera. And then there's the fact that this one looks less like a romantic drama than a thriller, what with all the creepy stalkers appearing in bedrooms and all the helicopters crashing in forests. Watch the Fifty Shades Darker trailer below.
Fifty Shades Darker Trailer
The first Fifty Shades movie turned out to be something of a pleasant surprise, thanks in a large part to Taylor-Johnson's clever, careful work. However, part of what made it click was that Taylor-Johnson did not seem overly hung up on staying faithful to the source material. That reportedly led to her butting heads with author E.L. James, which in turn led to Taylor-Johnson skipping the sequel. James appears to be exerting much more control this time around, what with her husband Niall Leonard on scripting duties. So will that make for a better film that's more appealing to fans? Or just a more faithful one? I suppose we'll find out in a few months.
Fifty Shades Darker is in theaters February 10, 2017. Kim Basinger, Bella Heathcote, and Eric Johnson join the cast.
When a wounded Christian Grey tries to entice a cautious Ana Steele back into his life, she demands a new arrangement before she will give him another chance. As the two begin to build trust and find stability, shadowy figures from Christian's past start to circle the couple, determined to destroy their hopes for a future together.