'Emily The Strange' Animated Movie Might Be Coming From Amazon Studios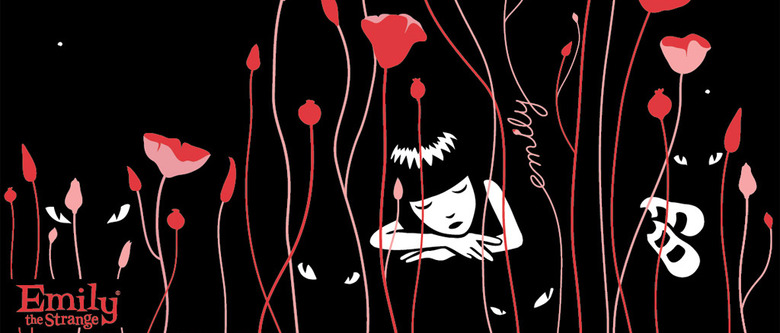 For over past eight years there's been talk now and then of an Emily the Strange movie. The comic book adaptation seemed most plausible when Chloë Grace Moretz (Neighbors 2: Sorority Rising) signed up to play the titular character (created by Rob Reger). The Moretz-led origin story was going to explain "how she came to gain her abilities that fuse technology and imagination," but we heard very little about that adaptation in the past few years. We now do know, however, Amazon Studios is interested in an Emily the Strange animated film.
Below, learn more about the Emily the Strange movie.
The project was initially set up at Universal, but the studio allowed the rights to lapse, so they reverted to Dark Horse, and the company continued to shop around the title. Why the change to animation? It's to "keep the authenticity and edge of the property," according to The Hollywood Reporter. If you've ever picked up an Emily the Strange comic and looked at some of the wild and imaginative panels, you know that's a good enough reason. Dark Horse Entertainment and Amazon Studios are still negotiating, but if a deal is struck, Reger and Dark Horse's Mike Richardson and Keith Goldberg will produce the feature.
Emily the Strange is an inventive goth 13-year-old girl who hangs out with her four cats — Sabbath (the troublemaker), Nee-Chee (the schemer), Miles (the creative), and the leader of the group, Mystery — and wears the same black dress every day. Her adventures range from defeating boredom to accidentally making another version of herself. Emily the Strange was created by Santa Cruz skateboarder Rob Reger in the early 1990s to help promote his clothing line, Cosmic Debris Etc. Inc.
Years after the character's creation, Dark Horse Comics, Chronicle Comics, and HarperCollins published plenty of Emily the Strange stories. Dark Horse turned her into a comic book character in 2005, and four years later, HarperCollins published young adult novels centered around the character. Reger and Jessica Gruner co-wrote quite a few of Emily the Strange's adventures together, which are illustrated by Buzz Parker. There have been all sorts of successful Emily-branded apparel, accessories, and even flagship stores in Hong Kong, Taipei, and Greece as well.
Mirror Mirror and Dallas Buyers Club co-writer, Melisa Wallack, wrote a draft of the live-action Emily the Strange film, but Dark Horse Entertainment and (potentially) Amazon Studios are starting from scratch and are on the search for a new writer for the animated picture.