'Ocean's Eight' Targets Damian Lewis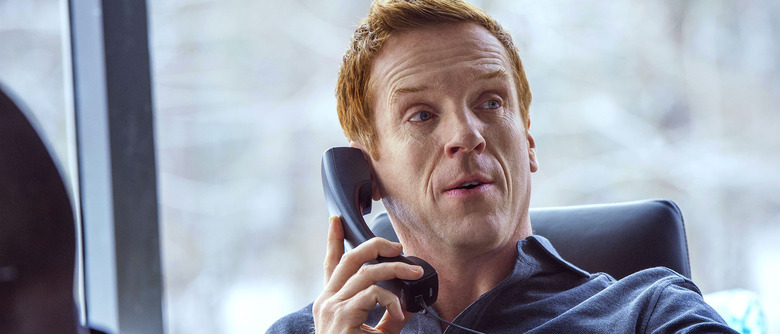 The Ocean's Eight cast just keeps getting better and better. With shooting already well underway in New York, the Ocean's Eleven spinoff has reportedly added Damian Lewis in the role of the villain / victim — that is, the guy that Sandra Bullock, Cate Blanchett, and the rest of their gang are targeting in the heist. 
Variety reports Lewis is in "final negotiations" to board the flick. If you've been following along with the film's production, though, Lewis' casting probably won't come as a surprise. He has already been photographed hanging around the set. Up until now, however, it's been unclear whether he was just dropping by for a visit, shooting a brief cameo, or taking on a meatier role. Lewis currently stars in Showtime's Billions, having broken out in the U.S. with Showtime's Homeland. He recently earned high praise for his performance as Henry VIII in the miniseries Wolf Hall.Gary Ross is directing Ocean's Eight from a script he wrote with Olivia Milch. Bullock leads the cast as the sister of Danny Ocean, George Clooney's character from Steven Soderbergh's Ocean's trilogy, and Blanchett is her right-hand woman. The rest of the gang consists of Helena Bonham Carter, Anne Hathaway, Sarah Paulson, Rihanna, Mindy Kaling, and Awkwafina. Dakota Fanning also stars, and Matt Damon (who appeared in Soderbergh's movies) has revealed he'll make a cameo. Plot details are still under lock and key, but the heist is believed to take place during the annual Met Gala. So why, exactly, is Bullock's character so determined to take Lewis down? Well, according to the trade, it turns out he's her ex.
It's a really random mix of stars, but also a pretty intriguing one. And if nothing else, we can definitely look forward to some great performances and some great costumes. The paparazzi have been all over the New York shoot of this movie, and just days ago the eight leads were seen filming a subway scene. You can check out those set photos, amazing outfits and all, over here.
Really, the only disappointing thing we've heard about the movie so far is that we'll be waiting a long time to see it. Ocean's Eight is scheduled to arrive June 8, 2018. Soderbergh is producing alongside Ross. Susan Ekins is executive producer.