Marvel's 'Inhumans' Hires Marvel's 'Iron Fist' Showrunner Scott Buck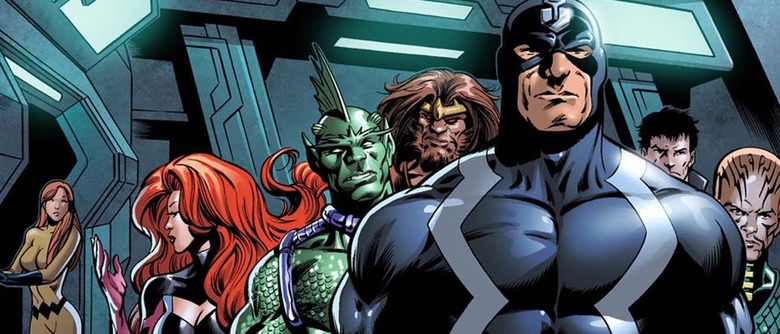 Last month Marvel announced plans for an ABC series centered around the Inhumans, a superpowered group that will be familiar to Marvel Comics readers, Agents of S.H.I.E.L.D. watchers, and probably not many others. So to help launch this new small-screen property, they're calling upon some help from an old friend. Scott Buck will serve as showrunner on Inhumans, after fulfilling the same role for another upcoming Marvel drama, Netflix's Iron Fist. 
As we reported a few weeks ago, ABC has already given a straight-to-series eight-episode order to Inhumans. The first two episodes will debut in IMAX theaters over Labor Day weekend next year, before premiering on ABC later that same month. Although the concept of Inhumans has already been introduced on ABC's Agents of S.H.I.E.L.D., the new Inhumans series is not considered a spinoff of that that other show. Nor is it intended to replace the Inhumans movie pulled off the Marvel calendar earlier this year. Inhumans will be the third Marvel drama to go to series on ABC, after Agents of S.H.I.E.L.D. and the sadly cancelled Agent Carter.
First introduced in comics in 1965, the Inhumans are a race of superhumans. They have a whole elaborate story explaining the alien genetic tinkering that led to their gaining superpowers. But often, they serve as a sort of X-Men stand-in — that is, an easy and reliable source of new superpowered characters — since Marvel doesn't have the rights to use the X-Men in their shows or movies. Plot details on the new Inhumans series are scarce, but we know the upcoming drama will center around the Inhumans royal family, including Black Bolt.
Buck is a TV vet who's worked on shows like Dexter, Six Feet Under, and Rome. Last year, he was announced as the showrunner for Iron Fist, the first season of which hits Netflix in March. Iron Fist is the fourth Marvel drama on Netflix, after Daredevil, Jessica Jones, and Luke Cage, and will help lead into the superhero team-up series The Defenders. It's unclear how Buck's obligations to Inhumans might impact his work on Iron Fist going forward. But maybe we're getting ahead of ourselves. Iron Fist hasn't even premiered season one, let alone been renewed for season two. There'll be plenty of time for Marvel to figure out what it wants to do.