'Fist Fight' Trailer: It's Charlie Day Vs. Ice Cube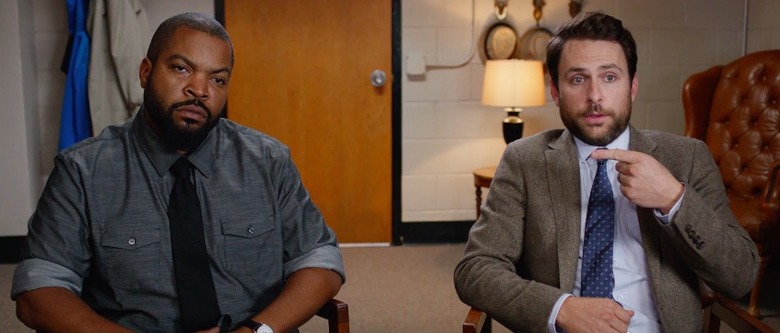 Why should teenagers get to be the only ones embroiled in high school drama? In Fist Fight, the battle is between two teachers. Mr. Campbell is your typical Charlie Day character, which is to say (as Kumail Nanjiani puts it in the trailer) he is "probably a nice guy, but a bit of a worm and a sneak." And Mr. Strickland is your typical Ice Cube character, which is to say he's got a "scary but effective" reputation as a hothead. When a conflict between them escalates to the point of physical violence, everyone in school — from the teachers to the students — gets invested.
Fist Fight is the feature directing debut of Richie Keen (It's Always Sunny in Philadelphia) and features a top-notch comedic cast including Jillian Bell and Tracy Morgan. And unlike a lot of comedy trailers we've seen lately, this one looks like it might actually live up to the potential of the talent involved. Watch the Fist Fight trailer below.
Fist Fight Trailer
Ice Cube has made a career out of playing the glowering foil to easily excitable doofuses — see also Ride Along and Jump Street — and Day has built his own on playing shrill, anxious types. Fist Fight is their first film together, but in retrospect, it seems inevitable that they'd end up sharing the screen. But the real scene-stealer here might be Jillian Bell. Since her breakout turn in 22 Jump Street, she has reliably proven to be the funniest part of anything she is in. Her delivery when Campbell asks her if she's doing meth again is just perfect.
Fist Fight punches its way into theaters on February 17, 2017. Christina Hendricks, Dennis Haysbert, Dean Norris, and JoAnna Garcia Swisher also star.
On the last day of the year, mild-mannered high school English teacher Andy Campbell (Day) is trying his best to keep it together amidst senior pranks, a dysfunctional administration and budget cuts that put jobs on the line. But things go from bad to worse when he accidentally crosses his much tougher and deeply feared colleague, Ron Strickland (Cube), who challenges Campbell to an old-fashioned throw down after school. News of the fight spreads like wildfire and ends up becoming the very thing this school, and Campbell, needed.