The Story Behind The Long-Lost Bill Murray Movie 'Nothing Lasts Forever'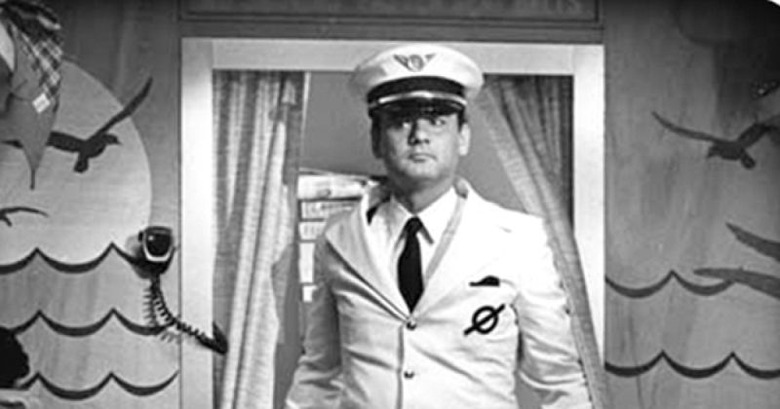 Some of you might've been lucky enough to catch the long lost Bill Murray movie, Nothing Lasts Forever, on Turner Classic Movies over a year and a half ago. It was a rare showing of the 1984 film that never got released in theaters and starred Gremlins' Zach Galligan, Dan Aykroyd, and musician Eddie Fischer. The Lorne Michaels-produced comedy has yet to receive a proper release on home video, but a screening was recently held in London for Tom Schiller's (Saturday Night Lady) troubled film.
Below, learn more about the lost Bill Murray movie.
Nothing Lasts Forever was Galligan's first film, which caused some strange tension between him and Murray. Galligan played Adam Beckett in the dystopian sci-fi comedy. It's a wild story that ultimately leads to the artist going on a trip to the moon with a conductor played by Murray. The young man's mission? Spread peace and find love. Turner Classic Movies — Turner Entertainment owns the rights to the film — describe it is as: "A displaced artist falls in with a group of social outcasts who actually rule the world."
Murray and Schiller hosted a screening of Nothing Lasts Forever over a decade ago in Brooklyn, New York. Just two days ago, though, London's Prince Charles Cinema hosted a 35mm screening followed by a Q & A with Zach Galligan.
Making the film, according to Galligan, wasn't easy. Jon Belushi was going to produce and co-star in the comedy, but he passed away six weeks before shooting, which made for an understandably tough shoot (source: Little White Lies):
I remember the whole thing like it was yesterday. It was my first experience on a movie set; I had just turned 18, still in high school – believe it or not I actually got credit for doing it as my senior project – so it was a really big deal for me. It would have been an even more incredible experience had John Belushi not just died. Lorne Michaels had cast John in a fairly decent part, and I was so excited to be working with him and the rest of the gang. Belushi was not just one of the 'Not Ready for Prime Time Players' along with guys like Aykroyd and Murray, he was one of their best friends.
While some praise the comedy as an unreleased piece of comedic genius, Galligan maybe wouldn't go that far — but he does think the film deserves a proper introduction to more film fans. The appeal of a home video release of Nothing Lasts Forever is obvious, but there might be some legal trouble in making that happen. Little White Lies doesn't go into too much detail, but Galligan told Bleeding Cool there were some rights issues. The legal problems may have had something to do with the clips from silent films – Intolerance and Birth of a Nation — Schiller used in the movie without getting approval first. Nothing Lasts Forever is a movie packed with film references (and features a score by Howard Shore).
Nothing Lasts Forever is also the only picture Schiller ever directed. He was a part of the original SNL writing team and went on to make hundreds of TV comedy commercials, but he never again made another feature film. It was a disastrous test screening of Nothing Lasts Forever that made MGM decide not to release it, but maybe one day soon more of you will get to see the title on Turner Classic Movies.