'Legion' Trailer: Dan Stevens' 'X-Men' Spinoff Gets A Premiere Date On FX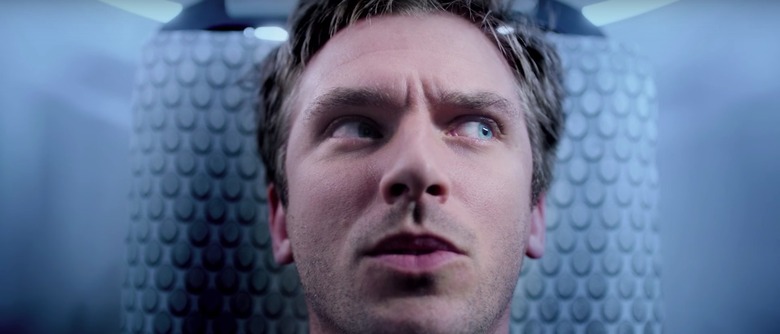 Stories about folks with superpowers have become so ubiquitous that it's easy to forget how bonkers the entire concept is. If you pause to think about it, it'd be completely bizarre for a boy in Queens to gain spider senses. It'd be insane for an actual, living alien baby to crash down in Kansas. And so on, and so forth. So it's nice to see Legion is injecting some much-needed weirdness back into the genre.
A spinoff of Fox's X-Men franchise, the FX drama centers on a young man named David Haller (Dan Stevens), who's spent much of his life going in and out of psychiatric hospitals to treat what he believes is schizophrenia. But something happens, and he starts to wonder if the voices he's been hearing in his head might be real after all. Comics fans will know that in the books, David is the son of Professor X and that David is himself a mutant with very interesting powers. But we'll all have to wait and see how things pan out for the small-screen version of the character. Watch the Legion trailer below.
Legion Trailer
It's tough to tell how much of this is specific to the trailer, but the editing here does a really effective job of putting viewers inside David's frantic, disoriented state of mind. He's not sure what's real and what's not, and we aren't either. Stevens puts in an intense performance as David, which shouldn't come as a surprise to anyone who's seen him in The Guest. The Legion trailer looks exciting and kind of creepy and also surprisingly funny — and oh, did we mention this is the new show by Fargo creator Noah Hawley? Yeah, this one's definitely going near the top of our most-anticipated list.
Legion premieres February 8, 2017 on FX. Also starring are Aubrey Plaza, Rachel Keller, Jean Smart, Jeremie Harris, Amber Midthunder, Katie Aselton, Hamish Linklater, Jemaine Clement, and Bill Irwin.
Legion follows David Haller, a troubled young man who may be more than human. Diagnosed as schizophrenic, David has been in and out of psychiatric hospitals for years. But after a strange encounter with a fellow patient, he's confronted with the possibility that the voices he hears and visions might be real.