'The Mummy' Teaser Trailer: Watch Tom Cruise Scream In Terror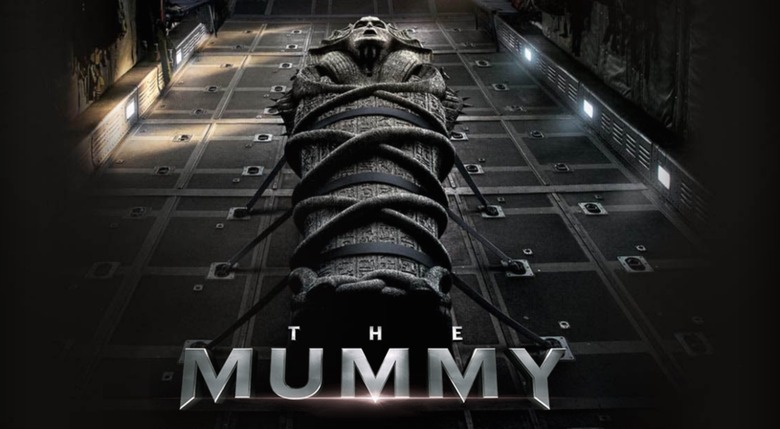 Fast and the Furious producer Chris Morgan is rebooting their Universal movie monsters into a connected Universal Monsters cinematic universe that begins with Alex Kurtzman's The Mummy. I know it's easy to write off another reboot, and another studio trying to copy the success of Marvel's connected universe, but this looks really promising. The first teaser trailer was unleashed during tonight's episode of The Walking Dead. Watch The Mummy Teaser trailer now after the jump.
The Mummy Teaser Trailer
I first saw this teaser at a press event earlier this week, accompanied by a behind the scenes piece which will be online this week and a sizzle reel that won't be online. I can tell you that the footage I was shown was surprisingly more thrilling than I had expected. Universal is calling this a teaser trailer, but at over two minutes it's practically a full trailer. I love the intense plane sequence at the beginning of this piece, and almost wish they had just released that alone as an old fashioned teaser trailer with a title reveal at the end.
Elsewhere on the site over the next few hours, I will have coverage of the event including a lot of quotes from director Alex Kurtzman. The filmmaker behind this movie and one of the architects of the upcoming Universal Monster movie universe, is saying all the right things. So if you're cynical about this movie monster reboot, I urge you to check out those pieces and read what Kurtzman has to say.
I am happy that that they are going a different way with titular villain The Mummy — this version of the ancient monster is in the female form of Sofia Boutella. While Kurtzman gives his reasons for this story being the big epic world-at-stakes adventure, I kind of wish they decided to make it smaller. Maybe it's that the contained plane sequence in this trailer is so great, or maybe it's that every blockbuster these days have end-of-the-world consequences, and I'm getting bored of it. Either way, I'm still more interested in this film than I was last week, and excited to see more.
Here is the official plot synopsis for the action adventure horror reboot:
Tom Cruise headlines a spectacular, all-new cinematic version of the legend that has fascinated cultures all over the world since the dawn of civilization: The Mummy. Thought safely entombed in a tomb deep beneath the unforgiving desert, an ancient princess (Sofia Boutella of Kingsman: The Secret Service and Star Trek Beyond) whose destiny was unjustly taken from her is awakened in our current day, bringing with her malevolence grown over millennia and terrors that defy human comprehension. From the sweeping sands of the Middle East through hidden labyrinths under modern-day London, The Mummy brings a surprising intensity and balance of wonder and thrills in an imaginative new take that ushers in a new world of gods and monsters. Cruise is joined by a cast including Annabelle Wallis (upcoming King Arthur, television's Peaky Blinders), Jake Johnson (Jurassic World), Courtney B. Vance (TV's American Crime Story: The People V. O.J. Simpson) and Oscar® winner Russell Crowe (Gladiator). The creative team on this action-adventure event is led by director/producer Alex Kurtzman and producer Chris Morgan, who have been instrumental in growing some of the most successful franchises of the past several years—with Kurtzman writing or producing entries in the Transformers, Star Trek and Mission: Impossible series, and Morgan being the narrative engineer of the Fast & Furious saga as it has experienced explosive growth from its third chapter on. Sean Daniel, who produced the most recent Mummy trilogy, produces alongside Kurtzman and Morgan.
The Mummy hits theaters on June 9th, 2017.