'20th Century Women' Featurette: Meet The Lovable Ensemble From Mike Mills' Newest Film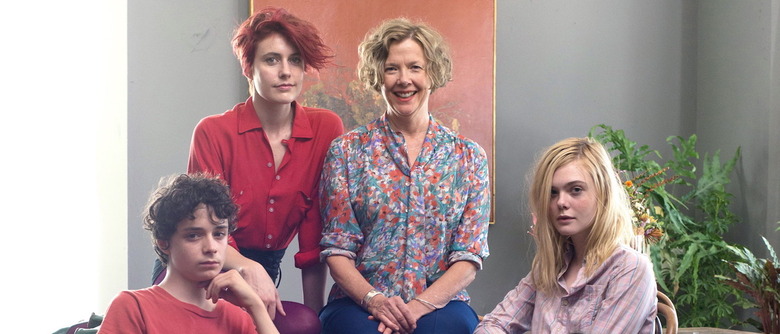 As of this moment, 20th Century Women is my favorite movie of the year. Mike Mills' (Beginners) latest film is warm, compassionate, honest, and funny. It's easily the director's most accomplished feature to date. While watching 20th Century Women, there are themes that call to mind his previous features. Time is a crucial component of Mills' work, and in 20th Century Women, he focuses on a very particular and relatable time in most peoples' lives.
Below, watch the 20th Century Women featurette.
Like Thumbsucker and Beginners, the characters in 20th Century Women — their flaws, their hopes, and their quirks — are immediately recognizable. Dorothea Fields (Annette Benning), her 15-year-old son Jamie (Lucas Jade Zumann), Abbie (Greta Gerwig), Julie (Elle Fanning), and William (Billy Crudup) can easily remind you of someone you've met, known, or maybe even been at some stage in your life.
They also call to mind those influential figures from your teens, whether a parent, family friend or whoever. If you find yourself as emotionally invested in Mills' latest film as I was, expect a floodgate of memories to open once the credits roll.
Here's the 20th Century Women featurette:
Hearing Mills talk about the heartbeat, electricity, and the soul of the cast, that's all true. Every emotion these characters express just radiates right off the screen. Not a single emotion or character rings as false in this movie. These characters are so lovable partly because, as Mills says, they're real. 20th Century Women is a beautiful and truthful movie not to miss.
Here's the official synopsis:
With 20th Century Women, acclaimed filmmaker Mike Mills (the Academy Award®-winning Beginners) brings us a multilayered, funny, heart-stirring celebration of the complexities of women, family, time, and the connections we search for our whole lives.
Set in Santa Barbara, the film follows Dorothea Fields (Annette Bening), a determined single mother in her mid-50s who is raising her adolescent son, Jamie (newcomer Lucas Jade Zumann, in a breakout performance) at a moment brimming with cultural change and rebellion. Dorothea enlists the help of two younger women in Jamie's upbringing – Abbie (Greta Gerwig), a free-spirited punk artist living as a boarder in the Fields' home, and Julie (Elle Fanning), a savvy and provocative teenage neighbor.
20th Century Women is a poignant love letter to the people who raise us—and the times that form us—as this makeshift family forges fragile connections that will mystify and inspire them through their lives.
20th Century Women opens in theaters on December 25th.