'Spectral' Trailer: Soldiers Battle Ghosts (Or Something) On Netflix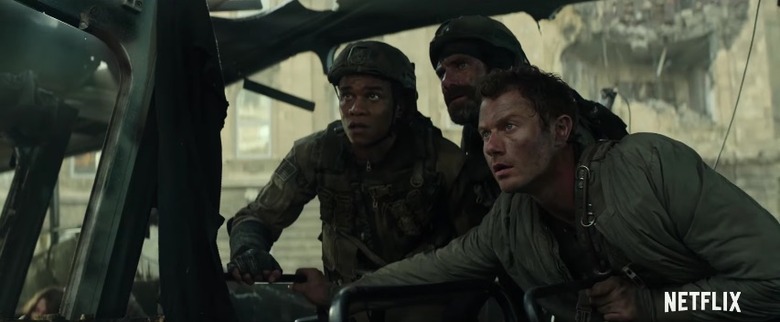 Eager to see a sci-fi war movie this month but too lazy to leave your house for Rogue One? Netflix has got you covered. Last month the streaming service scooped up Legendary's Spectral. Nic Mathieu's directorial debut centers around a Special Ops team going on a deadly mission to stop a wave of otherworldly forces.
James Badge Dale, Emily Mortimer, Bruce Greenwood, Clayne Crawford, Jimmy Akingbola, and Max Martini play a few of the humans that get mixed up in this crazy mess, which has been described as a sort of supernatural Black Hawk Down. Check out the first Spectral trailer below. 
Spectral has had a rough time getting to the screen. Shooting began all the way back in 2014 in Budapest, and the finished film sat on a shelf for over a year in anticipation of an August 2016 release from Universal. Then, just a few months before it was supposed to hit theaters, Universal quietly yanked the film from its schedule. Finally, last month, Netflix announced they'd picked it up to distribute.
None of that seems to bode well for the movie, but on paper it actually sounds pretty decent. Scripted by George Nolfi (The Bourne Ultimatum) and based on a story by Mathiu and Ian Fried, Spectral centers on an engineer who joins forces with a Special Ops team after mysterious phantoms code-named Spectral begin killing people in a battle-scarred city. The film boasts weaponry by Weta Workshop and VFX by Weta Digital, and a score by Junkie XL (Mad Max: Fury Road).
In practice, the Spectral trailer looks... fine. It's not bad-looking, but it feels a little generic, and the central premise is inherently kind of goofy. (There are many shots of CG knocking over brawny soldiers.) Still, for those evenings when you just want to watch a bunch of ghosts blowing people up, this could hit the spot.
Spectral will be on Netflix December 9.