'Jurassic World 2' Casts 'The Get Down' Star Justice Smith; Bryce Dallas Howard Gets More Sensible Shoes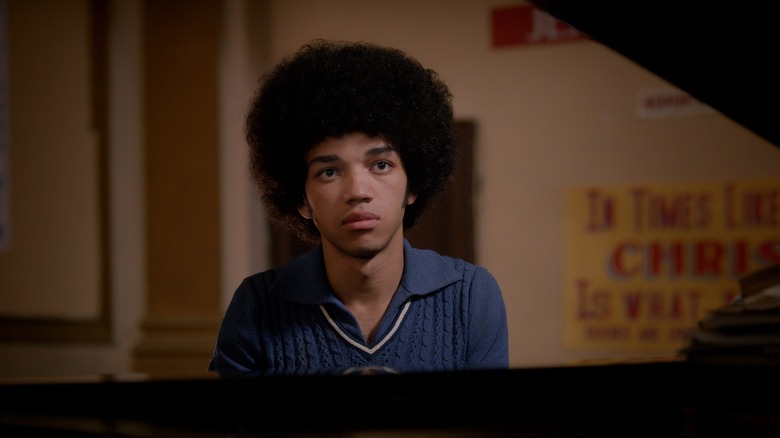 Jurassic World 2 has been out looking for potential dino chow, and now it's honed in on Justice Smith. The young star of Netflix's The Get Down has just been cast in the J.A. Bayona-directed sequel, joining franchise newcomers Rafe Spall and Toby Jones and returning stars Chris Pratt and Bryce Dallas Howard.
Oh, and speaking of Howard, she's got some good news coming her way, too. After her Claire spent most of Jurassic World sprinting around the jungle in stiletto heels, writer and producer Colin Trevorrow has promised she'll get much more comfortable footwear in the next film. 
The Hollywood Reporter broke news of the Jurassic World 2 Justice Smith casting, but have no details on his role in the movie. Smith had just a few small-ish roles under his belt, including a supporting turn in Paper Towns, before his breakout this summer in Baz Lurhmann's Netflix drama The Get Down. Though the show itself is something of a glorious mess, in typical Baz Luhrmann fashion, Smith has rightfully been praised for his sensitive, charismatic lead performance as budding rapper Zeke. I'm glad to see him snag a high-profile part in Juarssic World 2, and glad to see Jurassic World 2 get an infusion of exciting up-and-coming talent.
None of the filmmakers are saying much yet about the plot of Jurassic World 2, though we've heard a bit about the general concepts and themes that'll drive the movie. Trevorrow has described film as "more suspenseful and scary" and talked up its themes of animal abuse and open source development. Bayona, interestingly, has indicated that his film will tie more closely to the original Jurassic Park than Jurassic World did, calling the upcoming sequel "the fifth chapter of a longer saga." One of those connections looks likely to be B.D. Wong's Henry Wu, the scientist first seen in Jurassic Park and again in Jurassic World.
Whatever the specific story ends up being, though, it's probably a safe bet it'll involve humans running and hiding from bloodthirsty dinosaurs. And to do that, it helps to have comfortable shoes. After Claire's choice of footwear earned much eye-rolling from fans and critics in the first Jurassic World, Trevorrow reassured fans that she'd get more practical shoes in the sequel. He shared this photo of what looks like a costume design board showing her potential options. I don't think she'll wear all of these, but it seems we can expect her to be in clunky brown boots of some sort.
See you soon, @BryceDHoward pic.twitter.com/dSHIBRw8C0

— Colin Trevorrow (@colintrevorrow) December 1, 2016
Jurassic World 2 will shoot in March for release on June 22, 2018.