'Big Little Lies' Trailer: Reese Witherspoon, Nicole Kidman, And Shailene Woodley Head To HBO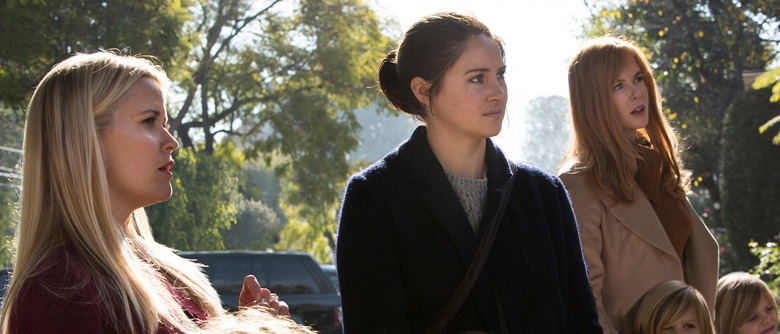 After spending so much of the past couple months digging into the intricate mysteries of Westworld, it might be a nice change of pace to dig into a more straightforward HBO drama. Though this one's hiding away some shocking secrets as well. The premium cable channel has debuted the latest trailer for Big Little Lies, David E. Kelley's adaptation of the bestselling novel by Liane Moriarty.
Reese Witherspoon, Nicole Kidman, and Shailene Woodley star as a trio of moms in beautiful, well-to-do Monterey, California. But when their idyllic lives are shattered, things sprial down until someone winds up dead. Witherspoon's Wild director Jean-Marc Vallée helmed all seven episodes. Watch the Big Little Lies trailer below. 
Big Little Lies Trailer
If there's one thing we've learned from Hollywood, it's that the more picture-perfect a suburban community looks, the more likely it is that it's roiling with rivalries and resentments and petty cruelties just underneath the surface, and that it's just a matter of time before someone gets killed. The town in Big Little Lies is clearly no exception. "We pound people with nice," Madeline (Witherspoon) says in the trailer. "To death!" Celeste (Kidman) adds cheerfully. And sure enough, by the end of the video, someone's asking, "we're seriously using the word 'murder'?"
The promo plays coy about what, exactly, goes down, but it's clearly something very terrible. We see a lot of talking heads — other townspeople, presumably — talking about how "viciously competitive" the people in town are, over scenes of our main characters gossiping and partying and stabbing each other int he back. All in all, Big Little Lies looks like one part suburban satire, one part pitch-black comedy, one part upper-middle-class drama, one part mystery thriller, and 100% a good time.
Big Little Lies will premiere Sunday, February 19 at 9 PM on HBO. Alexander Skarsgård, Adam Scott, Laura Dern, and Zoë Kravitz also star.