FX Orders 'Sons Of Anarchy' Spinoff 'Mayans MC' Pilot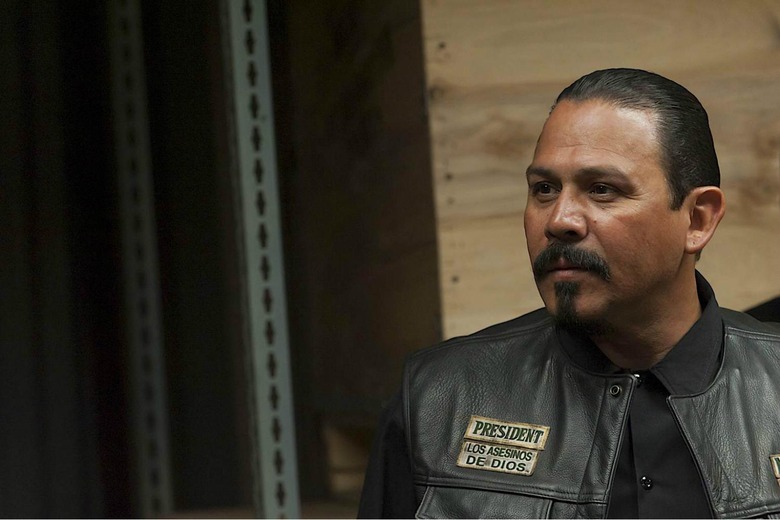 Creator Kurt Sutter is keeping the Sons of Anarchy brand alive and well. The writer has previously expressed interest in both a prequel and a spin-off to his hit crime series, and the latter started to pick up speed last year when it was announced Sutter was developing a show about the SAMCRO's Hispanic rivals, Mayans. Today, FX ordered the Sutter-directed Mayans MC pilot.
Below, learn more about the Sons of Anarchy spinoff.
Mayans MC will take place after the events of the Sons of Anarchy series finale. The spinoff show follows EZ Reyes, a prospect (potential member) in the Mayans MC charter. The character seeks vengeance against a local cartel, as he struggles with "his need for the women in his life to respect him." Unlike Sons of Anarchy, the show won't take place in Northern California — it's set at the California/Mexico border. Sutter has previously stated we may see appearances from a few members of the SAMCRO, though.
During Sons of Anarchy, which remains FX's most popular drama to date (9.2 million watched the series finale), Jax and his gang would repeatedly come into contact with the Mayans, a gang involved in heroin factories and prostitution. Later on in the series, a truce was established. The gang's leader, Marcus Alvarez (Emilio Rivera), is returning for Mayans MC.
Sutter is executive producing the show and starts shooting the pilot in March. The Sons of Anarchy creator co-wrote the script with co-executive producer, Elgin James (Little Birds). The two co-created the show together. Sutter didn't want "to just throw some white guy at it," so he hired a storyteller who understands Latin culture and traditions better than he does to make Mayans MC:
I wanted to find a strong, unique Latino voice. Because I didn't think a white guy from Jersey should be writing about Latin culture and traditions. Elgin is that voice.
James has had quite a life, one that makes you understand why Sutter would want him leading the charge on Mayans MC. The director spent a decade and a half in a gang, FSU, that went after neo-Nazi skinheads and drug dealers; he'd rob dealers and donate the money to charities. In 2008, James was a part of the Sundance Screenwriters Lab, but shortly after that, he had to serve a prison sentence for a past gang-related charge of federal extortion. A year or so later, he made his directorial debut with Little Birds, which stars Juno Temple, Leslie Mann, and Kate Bosworth.