James Gunn's 'The Belko Experiment' Red-Band Trailer: When Office Politics Get Bloody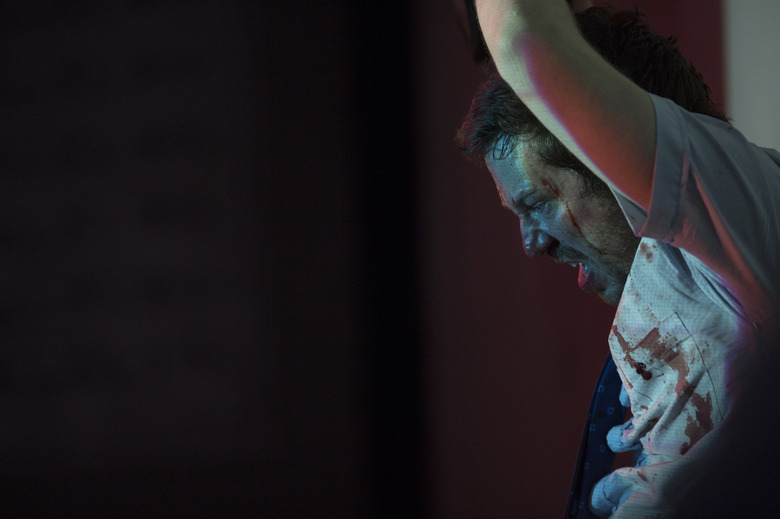 James Gunn has spent most of 2016 keeping his head down and working hard, but he'll be back in the spotlight next year with a couple of exciting new releases. One, you surely already know about — we've been talking about Guardians of the Galaxy Vol. 2 since the moment credits rolled on Guardians of the Galaxy Vol. 1 — but the other is just starting its marketing push now.The Belko Experiment is a lean, mean thriller written and produced by Gunn and directed by Greg McLean (Wolf Creek), starring 10 Cloverfield Lane's John Gallagher Jr. as one of many office workers who are trapped together and forced to kill or be killed. Other potential victims / murderers are played by Sean Gunn, Michael Rooker, Adria Arjona, John C. McGinley, Tony Goldwyn, David Dastmalchian, Melonie Diaz, and Josh Brener. The first The Belko Experiment trailer has just been released, and you can watch it below.
The Belko Experiment Trailer
I caught The Belko Experiment at TIFF, where it had its world premiere, and it's basically exactly what it says on the box. It's not aiming for profundity or wild originality, but it is a satisfying dose of blood and brutality. Best of all, it uses that office environment to add that special zing. Office supplies get put to creative use, and office politics play out in extreme, violent fashion. If you've ever found yourself stuck in a boring desk job, you might relate to the drama all too well. And if that seems kind of twisted, think of it this way: it's probably healthier to fantasize about beating up your boss while watching a movie than it is to punch the dude in real life, right?The Belko Experiment will be in theaters March 17, 2017. Here's a detailed synopsis from TIFF:
It at first seems to be an ordinary morning on the job for a group of Americans working for a not-for-profit in a modern office building in Colombia. After noticing that their Colombian colleagues have not arrived for work, office worker Mike (John Gallagher, Jr.) spots some unfamiliar security guards entering a large hangar nearby. Moments later, an icy voice comes over the building's PA system and calmly explains that the employees must kill a certain number of their co-workers — if not, they will be killed themselves. While the boss (Tony Goldwyn) tries to calm the troops, Mike belatedly realizes that something truly sinister is going on — and when metal doors come sliding down on all the building's exits and windows, it becomes clear that friends and colleagues are now suddenly enemies in a bloody and brutal battle to the death.