Jodie Foster Joins Drew Pearce's Directorial Debut 'Hotel Artemis'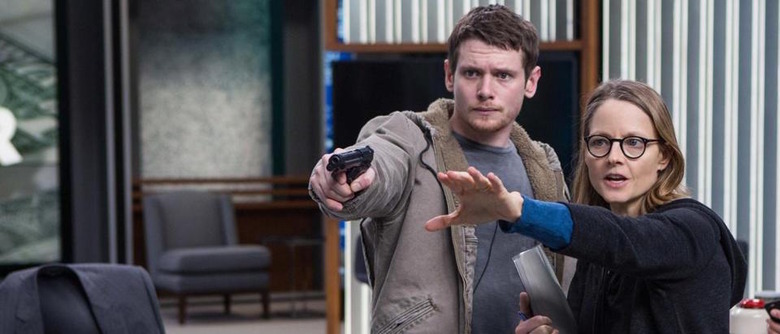 Elysium was the last movie we saw actress Jodie Foster in. In the three years since Neill Blomkamp's sci-fi action film hit theaters, Foster has directed a few episodes of Orange is the New Black and House of Cards and recently helmed Money Monster. She's now getting back in front of the camera with screenwriter Drew Pearce (co-writer of Iron Man 3) for his feature directorial debut, Hotel Artemis.
Below, get more details on the Jodie Foster Hotel Artemis casting news.
A press release confirmed Foster is playing "The Nurse" in the original sci-fi crime movie. The project, which the London-based production company Ink Factory is financing and producing, was announced this past June. Plot details are unknown, but Hotel Artemis is described as having "its own distinctive crime universe" with a few shades of Looper, Ex Machina, and Drive. The story takes place in the near future.
Foster is the first actor to board Hotel Artemis. In a statement, Pearce is understandably pleased about getting to work with someone of Foster's caliber on his first feature film:
Jodie Foster is an icon, pure and simple. She's an extraordinary artist, and to be working with one of the all-time greats on my first feature as a director is an absolute honor.
The Ink Factory's Stephen Cornwell added:
Casting Jodie Foster is a real coup. She is an extraordinary talent and will bring something very special to the film. We are delighted to welcome her to this exciting production. Drew's vision is unique and we can't wait to see it brought to life by a stellar cast.
Marc Platt (Scott Pilgrim vs. the World) is producing Hotel Artemis, and he's looking forward to reuniting with Foster:
Jodie and I have enjoyed a long professional and personal relationship that dates back to our days together at Orion where we collaborated on The Silence of the Lambs and her directorial debut, Little Man Tate. She is an accomplished artist in every way, and [producer] Adam [Siegel] and I look forward to collaborating with her on Drew's directorial debut.
Pearce has directed some short films in the past. He directed the Marvel One-Shot: All Hail the King, about actor Trevor Slattery (Ben Kingsley), and a few videos for Funny or Die (watch them here). Years ago we thought Pearce would make his feature directorial debut with an original action comedy, The Long Run, but the Jodie Foster-led Hotel Artemis will be his first major motion picture as a filmmaker.