Netflix's 'White Rabbit Project' Trailer Reunites The 'MythBusters' Build Team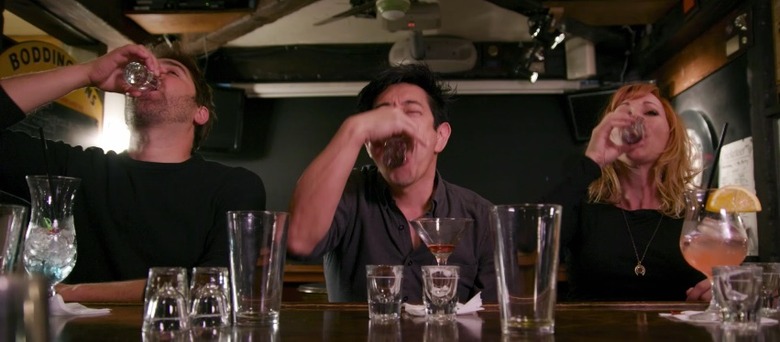 MythBusters ended its run earlier this year, after fifteen seasons on the Discovery Channel. But if you still haven't quite gotten over that loss, then Netflix may have just the thing for you. The streaming service has unveiled the first trailer for White Rabbit Project, which looks basically like MythBusters minus Jamie Hyneman and Adam Savage. Instead, the former Build Team – Grant Imahara, Kari Byron, and Tory Belleci — gets to be front and center this time.
Watch the White Rabbit Project trailer below. 
White Rabbit Project Trailer
When White Rabbit Project was announced a couple months ago, it was described as "MythBusters in Wonderland." The promise was that it would send the trio "down the rabbit hole of the internet" to investigate "weird and wonderful events from pop culture, science, and history." As with MythBusters, the hosts will conduct experiments, builds, and tests to get to the truth behind urban legends and historical anecdotes. And as with MythBusters, it sounds like things will get pretty strange. Just in the trailer, you've got the gang staging a jailbreak, blowing things up, and making remarks like, "I've never sexed a cockroach either." I don't even want to know the context for that last one.
So yeah, White Rabbit Project looks kind of familiar, but that seems to be its charm. It should hit the sweet spot for people who want something that's basically exactly like MythBusters, only not a rerun. Imahara, Byron, and Belleci have clearly built up a wonderful rapport from their years together on MythBusters, and it should be fun to see them team up again.
All episodes of White Rabbit Project will be on Netflix December 9.
The coolest tech. The weirdest weapons. The craziest escapes. Three science-loving sleuths put them under the microscope.
Kari Byron, Tory Belleci and Grant Imahara rank history's greatest inventions, heists and more in this series from the producers of "MythBusters."