Dan Trachtenberg To Direct 'The Secret Life Of Houdini', See Concept Art From His 'Rocketeer' Pitch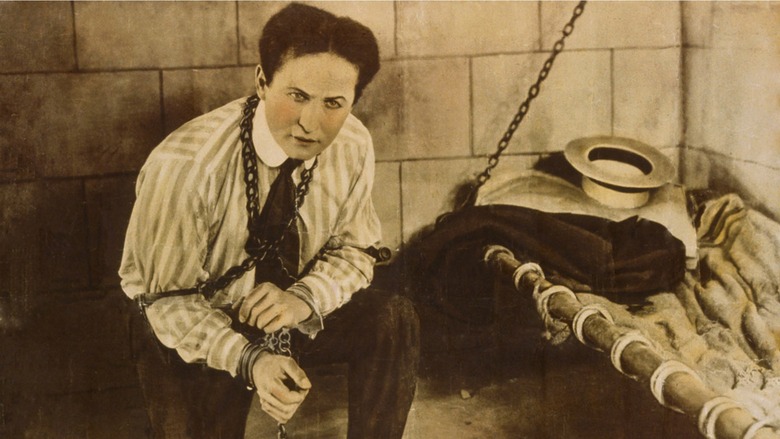 10 Cloverfield Lane director Dan Trachtenberg is in talks to direct The Secret Life of Houdini, based on the William Kalush and Larry Sloman's book The Secret Life of Houdini: The Making of America's First Superhero which portrays the master magician as a secret agent investigating the occult.  The pitch for the movie is that Houdini was not only the world's greatest escape artist and magician but also "part Indiana Jones and part Sherlock Holmes." Learn some details about this Dan Trachtenberg Houdini movie, after the jump.
The project has been in the works for since 2009. In 2014, Johnny Depp was attached to star in the adaptation which was then going to be directed by Dean Parisot (Red 2). Before that, Gary Ross was eyeing the film as a potential Hunger Games follow-up in 2012 and when that didn't pan out, Joe Wright took a turn flirting with the project. Deadline learned about Trachtenberg's contract negotiations.
Indiana Jones mega-producer Frank Marshall is producing the film for Summit Entertainment. The script was penned by Noah Oppenheim, who won the scripting prize at the Venice Film Festival earlier this fall. The book was somewhat controversial, as it implied that the famous magician and escape artist acted as a spy for Britain and was asked to be an adviser to Czar Nicholas II's court in pre-revolutionary Russia. The movie will likely be less accurate, and more of a jumping off point for a fun Sherlock Holmes-style action adventure.
A bunch of movies have been made about Harry Houdini, including one of my old favorites, the 1953 George Marshall-directed biopic starring Tony Curtis and Janet Leigh. There have also been a bunch of made-for-television movies, including the 2014 miniseries which starred Adrien Brody as Houdini and the 2016 failed Fox television series Houdini and Doyle. There hasn't been a great Houdini movie produced to date, and Trachtenberg's involvement gives me hope that we might get something on the level of Christopher Nolan's The Prestige.
Max Landis is also writing a competing Houdini project for Sony, which is a look at the life of famed magician Harry Houdini during the time he lived in New York during the early 20th Century. Mark Waters was also developing a project about a young boy discovers he is a descendant of the famous illusionist Harry Houdini.
Trachtenberg has been hot off the success of his feature directorial debut 10 Cloverfield Lane which was produced by JJ Abrams and Bad Robot, and is expected to place on many of the year's top 10 lists next month. He followed that up with an episode of Black Mirror titled Playtest starring Wyatt Russell. He is also developing a time travel heist film titled Crime of the Century for Fast and the Furious producer Chris Mogan at Universal.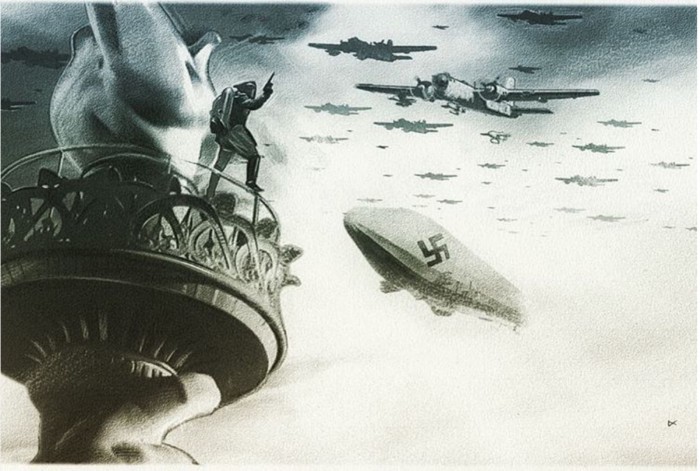 Not related to this project but last week Trachtenberg shared concept art for what appears to be commissioned for a Rocketeer movie pitch. He commented that "Years ago I had @denniscaleroart draw this up for me to pitch. It was an alt-history take. Seems more relevant now." We have no further information on this piece of art but I thought it was cool and worth sharing. I'm sure someone will get the story about this piece of concept art when Trachtenberg is out doing interviews for his next project.
We had recently learned that a Rocketeer reboot/sequel The Rocketeers is in development at Disney, but as far as we know Trachtenberg is not involved in that version.