Kevin Smith Wants A 'Superman Lives' Animated Movie And To Direct A 'Bedknobs And Broomsticks' Remake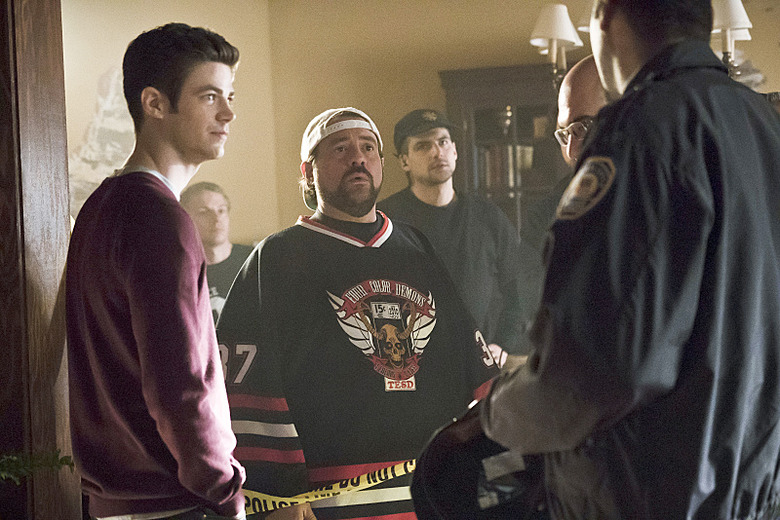 The history of Tim Burton's squashed Superman film, Superman Lives, has been well documented. Just last year there was Jon Schnepp's documentary, The Death of "Superman Lives": What Happened?, which featured writer-director Kevin Smith discussing his time on the comic book movie. Now, Smith says he still wouldn't mind seeing the script he wrote realized, at least in animation.
Below, learn more about Kevin Smith's hopes for a Superman Lives script.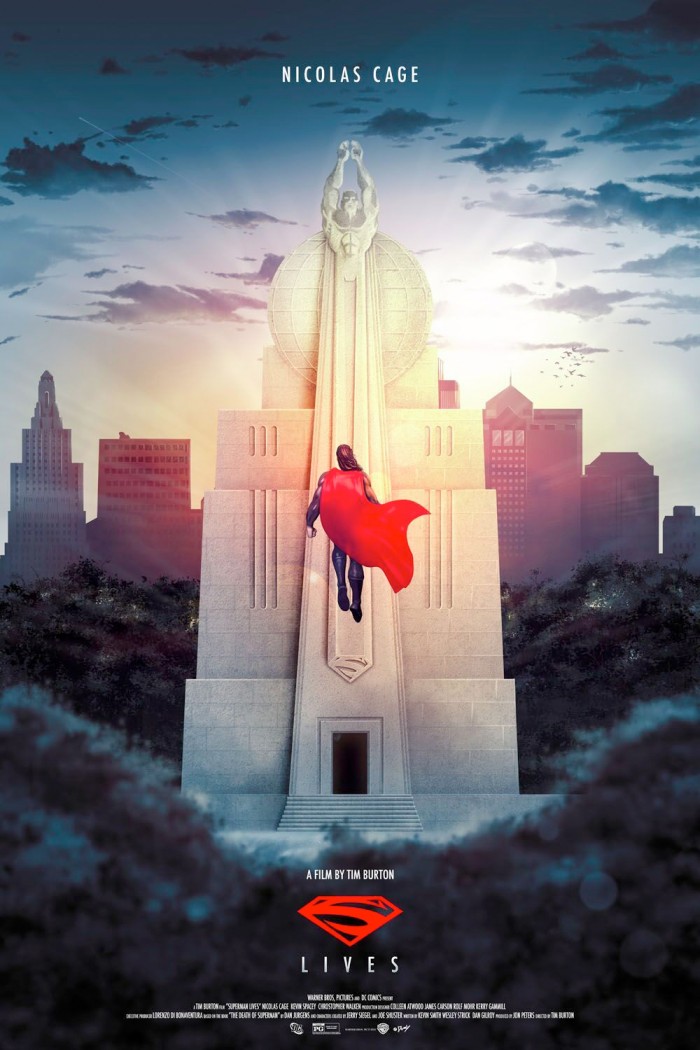 Around 1996 or 1997 Smith was hired by Warner Bros. to write Superman Lives – a title Smith came up with — before Burton became involved. He worked closely with producer Jon Peters, an experience he hilariously recounted on An Evening with Kevin Smith. The story was loosely inspired by "The Death of Superman" storyline and involved Brainiac, Lex Luthor, and Doomsday killing the hero. A Kryptonian robot then resurrected Superman.
It was Smith who suggested the idea of Burton directing, but once the filmmaker signed on he threw Smith's script out and started from scratch. During a recent Q & A on Facebook, Smith expressed interest in seeing his script turned into a DC Universe Animated film:
Oh like based on my script, based on the Superman Lives script? That would be tight, dude. I'm not going to lie, that would be fun to see. That's something I worked on 20 years ago at this point, so that would be really amazing to kind of see, like they turn it into a cartoon and get the people to do the voices. Nic Cage is still around and stuff. And I wanted Michael Rooker for my Lex Luthor, so that would be amazing. Um, but, you know, I'm game. That ain't up to me, kids. That's up to the good folks at Warner Bros. and stuff, but if they were ever to call and say hey, we want to do a cartoon version of that Superman script we wrote, believe me I'd be like, that'd be dope, man. You know you close all loops in life, one way or another, and that would be a nice way to close that loop.
An animated version of Smith's Superman Lives script would likely interest his fans and those curious about his script, but as the director said, it's all up to Warner Bros. On the animated side of things, we've recently seen Batman: The Killing Joke and Batman: Return of the Caped Crusaders from the DC universe. They're both somewhat outside of the box choices — one is R-rated, the other stars the original cast of the Batman TV show — so in a world where we get those animated films, it's not hard to imagine a Superman Lives animated movie one day existing, but as of this moment, it's not much more than a nifty idea of Smith's.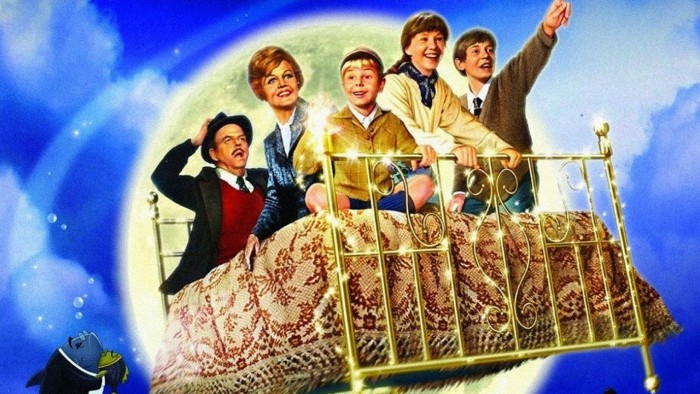 Another idea the Clerks, Chasing Amy, and Yoga Hosers director is interested in is remaking Disney's 1971 musical, Bedknobs and Broomsticks, which starred Angela Lansbury and David Tomlinson. The film blended live-action and animation to tell the story of three boys and a witch during World War II. The witch casts a spell that transports her and the boys to the Isle of Naboombu, where they can acquire the power needed to save England.  Smith recently said on the Fatman on Batman podcast (via CBR) he'd go to great lengths to make that movie:
Bedknobs and Broomsticks can be remade today. That movie can so f–king work today. In a world where Disney's like, Pete's Dragon! and sh-t like that... Hey! I will fucking suck dick, Disney, to make the remake of Bedknobs and Broomsticks.
To Smith, the original movie has it all — – witches, battling Nazis, ghosts in armor, and "a cartoon under the sea where they play fuckin' soccer." Disney has successfully reimagined some of their most beloved and iconic titles, but it's doubtful any exec over there is clamoring for a modern update of Bedknobs and Broomsticks. It'd certainly be an interesting title of theirs to remake, though.