Stephen Gaghan's 'Gold' Opening Wide A Month Later Now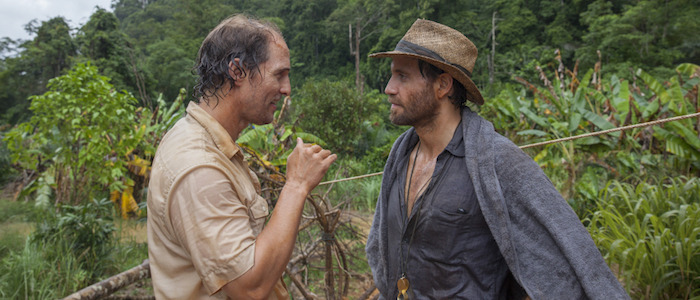 Harvey Weinstein's name is synonymous with the Academy Awards. The producer has had films famously dominate the awards ceremony before. This year he's pushing Lion and The Founder as serious contenders, and hopefully Sing Street will get more attention come awards season. Another Oscar hopeful for Weinstein's is Stephen Gaghan's new film Gold, which based on the trailers, also has a chance of finding an audience when it goes wide at the end of January.
Below, learn the new Gold release date.
Gold was originally going to hit a few thousand theaters on Christmas Day, but now that its awards-qualifying it'll play at just two theaters on the holiday. According to Deadline, the Syriana director's latest film is now scheduled to go wide on January 27.  Based on a true story, the film stars Matthew McConaughey as Kenny Wells, a man with a dream who goes hunting for gold in the Indonesian jungle. Gold co-stars Edgar Ramirez, Bryce Dallas Howard, Corey Stoll, Bruce Greenwood, and Toby Kebbell.
The Weinstein Company didn't want the film to get lost in the shuffle on Christmas Day. Weinstein explained the release date shift to Deadline while — this isn't very surprising — comparing Gold to The Wolf of Wall Street and American Hustle:
One of the best roles ever that he's played in his long career. We will open four days after the Academy nominations, and feel that we are taking advantage of both worlds. The awards season is very important, but Gaghan did a great job here, directing a terrific adventure that's got twists and turns and is American Hustle meets The Wolf of Wall Street. The way it looks right now, all these adult films are going wide, and there will be more competition in the marketplace than we've seen, maybe ever. This seemed a perfect way to maximize the commercial and awards prospects for a film that exhibition is very high on.
This year McConaughey's films haven't been connecting with filmgoers. The Free State of Jones, The Sea of Trees, and (sigh) Kubo and the Two Strings underperformed at the box-office. If Gold is as entertaining as it looks, though, maybe it'll have better luck with audiences.
Here's the official synopsis for Gaghan's upcoming movie:
GOLD is the epic tale of one man's pursuit of the American dream, to discover gold. Starring Oscar winner Matthew McConaughey as Kenny Wells, a prospector desperate for a lucky break, he teams up with a similarly eager geologist and sets off on an amazing journey to find gold in the uncharted jungle of Indonesia. Getting the gold was hard, but keeping it would be even harder, sparking an adventure through the most powerful boardrooms of Wall Street. The film is inspired by a true story.
Gold opens in limited release on December 25. and then goes wide January 27.