Marvel's 'Black Panther' Adds Angela Bassett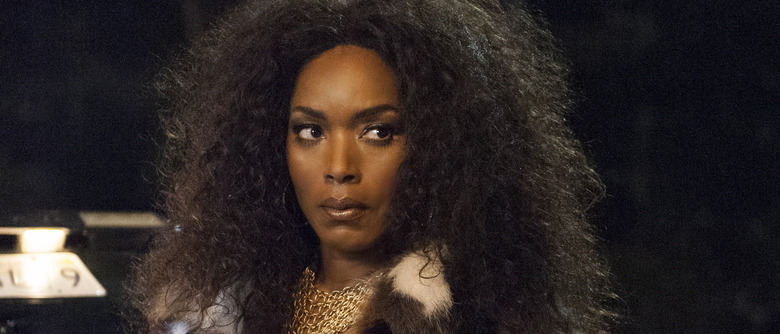 The cast of Marvel's Black Panther somehow keeps getting better and better. Angela Bassett is the latest to board the superhero adventure, which is being led by Chadwick Boseman and directed by Ryan Coogler. More details on the Black Panther Angela Bassett casting, including the nature of her role, below. 
Marvel officially announced the Black Panther Angela Bassett casting today. She'll play Ramonda, mother of T'Challa (Boseman). Also starring in the film are Michael B. Jordan as villain Erik Killmonger, Forest Whitaker as Wakandan statesman Zuri, Lupita Nyong'o as Dora Milaje member Nakia, Danai Gurira as Dora Milaje member Okoye, Daniel Kaluuya as T'Challa's friend W'Kabi, Winston Duke as villain M'Baku (a.k.a. Man-Ape), and Florence Kasumba as Dora Milaje member Ayo.
Coogler and Joe Robert Cole wrote the script, which picks up with the Wakandan hero after his introduction earlier this year in Captain America: Civil War. The death of his father in that film means T'Challa must take over the Wakandan throne, but, as Nyong'o has explained in earlier interviews, "Black Panther's leadership has been threatened by two foes who come together, and so Black Panther gets the help of the C.I.A. and the Dora Milaje to try and defeat the enemy."
Bassett is an Academy Award nominee (for 1994's What's Love Got to Do With It) who currently stars in FX's American Horror Story. She's no stranger to big-budget superhero films, having played Amanda Waller in 2011's Green Lantern.
There's no denying this is one hell of a cast, but after Marvel's last few releases I'm just hoping the film won't waste their talents. Doctor Strange gave Michael Stuhlbarg almost nothing to do and rendered Amy Landecker practically unrecognizable, while Julie Delpy showed up in Avengers: Age of Ultron for all of two minutes. Mind you, I'd be happy to see Bassett even if it's only for a glorified cameo. But I'd be even happier to see her rip into a role that really deserves her.
Black Panther opens February 16, 2018.