Exclusive 'Hell Or High Water' Featurette: Meet The Tanner Brothers, Ben Foster & Chris Pine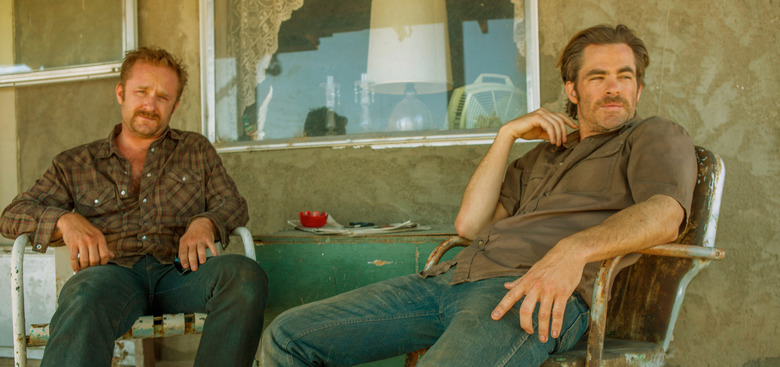 Ben Foster and Chris Pine play incredibly convincing brothers in David Mackenzie's knockout drama, Hell or High Water, written by Sicario scribe Taylor Sheridan. Tanner (Foster) and Toby (Pine) have their differences, but they're definitely from the same family. Their mutual trust, their shorthand, their inside jokes, and how they express themselves — they're cut from the same cloth. The criminals are far from heroes, but their tight bond makes them surprisingly empathetic in Hell or High Water, which hits home video tomorrow. To celebrate the release, we've been premiering a clip from one of the film's bonus features.
Below, watch a clip from a Hell or High Water featurette.
Arguably in too many movies these days is the bank robber with a heart of gold who will do everything possible not to hurt anybody. Tanner definitely isn't that sort of criminal. He has a great sense of humor and plenty of love for his brother, but he's an aggressive, extremely dangerous, and unpredictable man. Toby is the less volatile of the two, but he's no squeaky clean hero, either.
In this Hell or High Water featurette, the cast and crew discuss the brothers' relationship:
The opening bank heist shown in this featurette is excellent. When the film hit theaters this past summer, Mackenzie recorded a breakdown of the scene, which establishes the atmosphere, tone, and characters with great brevity. It's one of the many exciting sequences in Hell or High Water, a movie that's excellent entertainment across the board with its emotional performances, propulsive pace, sparse exposition, a real sense of time and place, unforgettable supporting characters, and two believable desperate brothers.
Here's the official synopsis:
A story about the collision of the Old and New West, two brothers—Toby (Chris Pine), a straight-living, divorced father trying to make a better life for his son; and Tanner (Ben Foster), a short-tempered ex-con with a loose trigger finger—come together to rob branch after branch of the bank that is foreclosing on their family land. The hold-ups are part of a last-ditch scheme to take back a future that powerful forces beyond their control have stolen from under their feet. Vengeance seems to be theirs until they find themselves in the crosshairs of a relentless, foul-mouthed Texas Ranger (Jeff Bridges) looking for one last triumph on the eve of his retirement. As the brothers plot a final bank heist to complete their plan, a showdown looms at the crossroads where the last honest law man and a pair of brothers with nothing to live for except family collide.
Hell or High Water is available on Blu-ray & DVD on November 22nd. Sadly, there is no audio commentary, but it's definitely worth watching without it anyway.