'Inhumans' TV Series Details: IMAX Release Date & More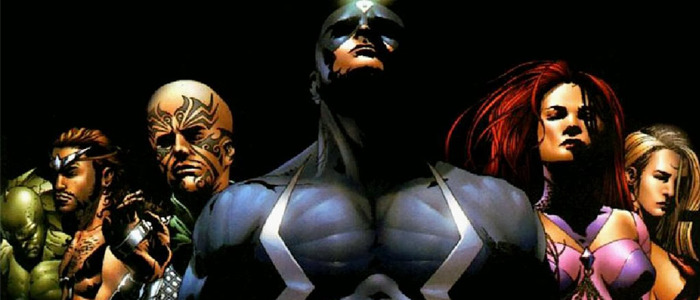 Marvel's next big TV series will be their biggest yet. Literally. As we learned last week, the Inhumans show will debut on IMAX before hitting the small screen as part of ABC's fall 2017 lineup. Today, we've got some more details on the planned series and its IMAX run. Click through to get the latest details on the Inhumans IMAX release. 
THR reports Inhumans has a straight-to-series order for an eight-episode run on ABC this fall. But before it gets there, the first two episodes of the Inhumans TV series will debut on 1,000 IMAX theaters across 74 countries, getting a two-week run starting Labor Day weekend 2017. (Labor Day falls on Monday, September 4, so expect Inhumans to premiere around Friday, September 1.) That tends to be a pretty slow time of year for new movie releases anyway, so a splashy premiere for a brand-new Marvel series seems like as good a use of that slot as any.
As previously reported, the first two episodes will be shot entirely with IMAX cameras. But so will some scenes from subsequent episodes, including some shot on the moon. IMAX is footing the bill for the first two installments, and ABC will then take those episodes and expand them with additional content for broadcast. Inhumans will be the first TV show to be financed by IMAX and the first TV show to premiere in IMAX. (Though not the first TV show screened in IMAX — that'd be Game of Thrones, last year.)
The show is still in the early stages and hasn't even begun casting, so details are scarce. However, the trade emphasizes that this is not an Agents of S.H.I.E.L.D. spinoff, despite the fact that the Inhumans were first introduced into the MCU on Agents of S.H.I.E.L.D. a couple of seasons ago. Nor is it a replacement for the Inhumans movie that was yanked from the 2019 release calendar earlier this year. The Inhumans TV series is expected to focus on the Inhumans royal family, including Black Bolt, who will probably not be played by Vin Diesel.
For those out of the loop with the Marvel comics and Agents of S.H.I.E.L.D., the Inhumans are a race of superhumans first introduced into the comics in 1965. Though their origins are different, they effectively function as the MCU's stand-in for the X-Men, the movie rights for which are currently over at Fox. The Inhuman royals, who have not appeared on Agents of S.H.I.E.L.D., are among the most prominent Inhuman characters from the comics. Ms. Marvel, another popular comic book character, is also Inhuman.