TNT Orders 'Snowpiercer' Pilot From 'Terminator: Sarah Connor Chronicles' Creator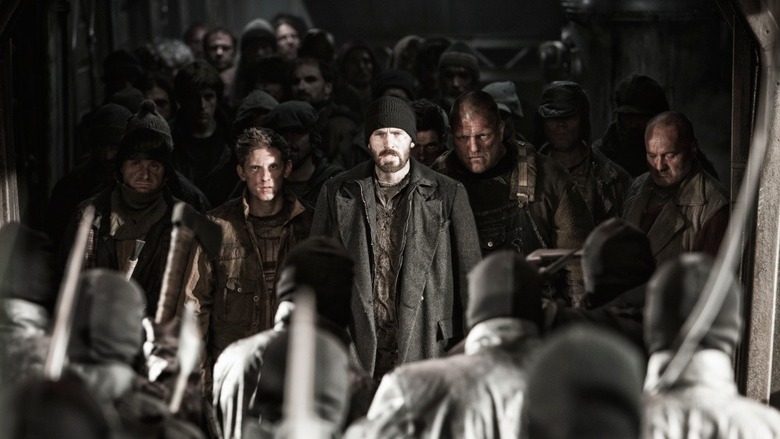 We recently learned a Snowpiercer television show is in the works. Terminator: Sarah Connor Chronicles' creator Josh Friedman is leading the way on the series based on Bong Joon-ho's creative and thrilling 2014 film. Bong and Oldboy director Chan-wook Park are executive producing the show, for which TNT has already ordered a pilot.
Below, get the latest updates on the Snowpiercer TV series.
Snowpiercer was an international box office hit and attracted plenty of passionate fans. The film takes place in a near future Ice Age where the last of humanity is living on a train powered by a perpetual-motion engine. A class-based system divides the train. Tired of their living conditions, the train's poorest inhabitants (led by Chris Evans) start a rebellion and head for the front of the train.
How much Friedman is drawing from the French graphic novel Le Transperceneige or the film is unclear, but everything we've read so far indicates the movie, understandably, is the show's key inspiration. According to Deadline, TNT has ordered the pilot written by Friedman, who also worked on the Locke & Key show we sadly never saw. He's the writer, executive producer, and showrunner on the Snowpiercer TV series. Tomorrow Studios' Marty Adelstein (Prison Break) and Becky Clements (Aquarius) are executive producing the series, which is co-produced by their studio, T. Tomorrow Studios, and Turner's Studio T.
In a statement, Sarah Aubrey, EVP Original Programming at TNT, said her network is excited to show a "world where humanity is pushed to the extreme."
Snowpiercer has one of the most original concepts to hit the screen in the last decade, and it's one that offers numerous opportunities for deeper exploration in a series format. We look forward to expanding TNT's relationship with Tomorrow Studios and their take on a world where humanity is pushed to the extreme.
Producer Marty Adelstein added:
TNT has become a great producing partner to Tomorrow Studios and we are excited to continue our relationship with them on Snowpiercer, for which we not only have a pilot but are writing multiple scripts. This is an incredibly powerful story and one for which finding the perfect home was imperative to its success.
Snowpiercer isn't the only film-to-tv adaptation TNT is developing with T. Tomorrow Studios and Turner's Studio T. Just last month TNT ordered a pilot of the Let the Right One In TV series from both production companies. TNT's remake of Animal Kingdom proved to be a success this past summer and is returning for a second season, but whether Snowpiercer and Let the Right One In will have as smooth as transitions from the big screen to television as Animal Kingdom did, we'll have to wait and see.