Cars 3 Teaser Trailer Shows Dramatic Turn For The Series [Updated With Poster]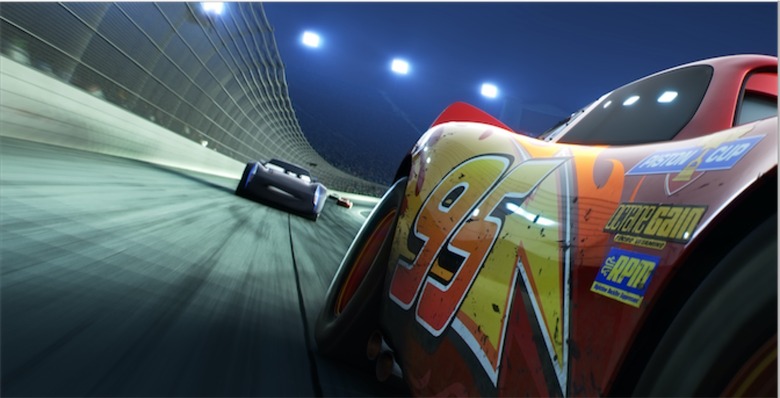 Pixar has released the first teaser trailer for Cars 3, which hints at a dramatic turn for the John Lasseter-created animated franchise. We've also updated this post with the newly released Cars 3 teaser poster.
Cars 3 Teaser Posters
It seems rather disturbing imagery for younger audiences to absorb in a trailer. I can't imagine being a kid who is a fan of this series and seeing this teaser trailer right before a film like Disney's Moana.
Cars 3 is directed by Brian Fee, who worked as a story artist on the previous two Cars movies as well as other Pixar films and is now part of the Pixar Senior Creative Team. The screenplay is written by Daniel Gerson, who worked on Monsters Inc, Chicken Little, Cars, Monsters University, Big Hero 6 and more.
We don't really know much about this upcoming third installment from the Cas franchise, and the only released plot synopsis follows: "Lightning McQueen sets out to prove to a new generation of racers that he's still the best race car in the world." So it appears that this is a comeback story with Lightning McQueen having to make a comeback after a dramatic car crash.
Owen Wilson reprises his role as Lightning McQueen, and will be facing a new foe in Jackson Storm. So McQueen will get a little bit of help from a new coach named Cruz Ramirez, a young Hispanic female race car who is tasked with training McQueen in order to help him stay competitive in the racing world. Could this be the Rocky Balboa of the Cars franchise? Lasseter previously said:
"Lightning McQueen, he's awesome. We've got some great new characters, some great racing in it. It's a very emotional story. It's a little bit more akin to 'Cars 1,' where you get into a deep emotion with him. It's really a special story. It's very emotional and his relationship with Doc Hudson, and his memory of Doc Hudson."
Here's what director Brain Fee had to say about Lightning and Ramirez:
Cruz Ramirez is trying to figure out how this old dog can learn some new tricks. Think of where he'd be in his career now in real time. (McQueen) is not an old man, but he's one of the older cars on the circuit with new rookies coming in. People start to wonder and ask when he might retire.
See some concept art from Cars 3 including some of the new characters. Disney/Pixar's Cars 3 opens in US theatres in 3D June 16, 2017.