'Rogue One' Extended TV Spot: Jyn & Cassian Make For Unlikely Buddies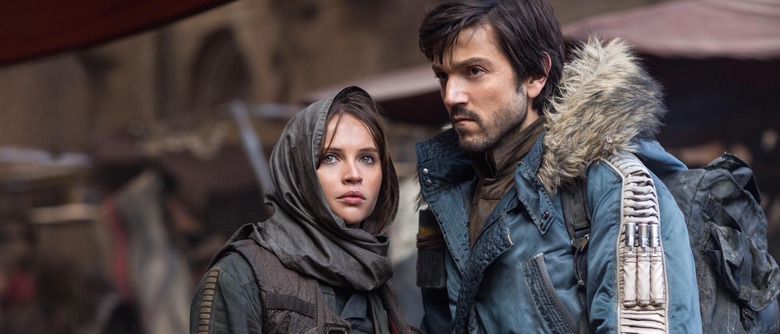 We are less than a month away from Rogue One: A Star Wars Story. The final trailer has already come and gone, but the featurettes and TV spots keep on coming. The latest Rogue One extended TV spot serves up a few more bits of footage, specifically focused on two of our new Rebel heroes, Jyn Erso (Felicity Jones) and Cassian Andor (Diego Luna). Check out the Rogue One extended TV spot below. 
Rogue One Extended TV Spot
Neither Jyn nor Cassian really seems the social type. Indeed, Luna has said Cassian's only real friend in the Rebellion is K-2SO, a droid he programmed himself. So it's kind of sweet that they seem to become good friends over the course of the movie. Granted, that just means it's going to hurt all the more if and when the Rebel soldiers start dying off, but until then it's nice to see these two crazy kids have each other.
Rogue One: A Star Wars Story is in theaters December 16.
From Lucasfilm comes the first of the Star Wars standalone films, "Rogue One: A Star Wars Story," an all-new epic adventure. In a time of conflict, a group of unlikely heroes band together on a mission to steal the plans to the Death Star, the Empire's ultimate weapon of destruction. This key event in the Star Wars timeline brings together ordinary people who choose to do extraordinary things, and in doing so, become part of something greater than themselves.
"Rogue One: A Star Wars Story" is directed by Gareth Edwards and stars Felicity Jones, Diego Luna, Ben Mendelsohn, Donnie Yen, Mads Mikkelsen, Alan Tudyk, Riz Ahmed, with Jiang Wen and Forest Whitaker. Kathleen Kennedy, Allison Shearmur and Simon Emanuel are producing, with John Knoll and Jason McGatlin serving as executive producers. The story is by John Knoll and Gary Whitta, and the screenplay is by Chris Weitz and Tony Gilroy.  "Rogue One: A Star Wars Story" opens in U.S. theaters on December 16, 2016.