'Game Of Thrones' Star Emilia Clarke Joins 'Han Solo' Movie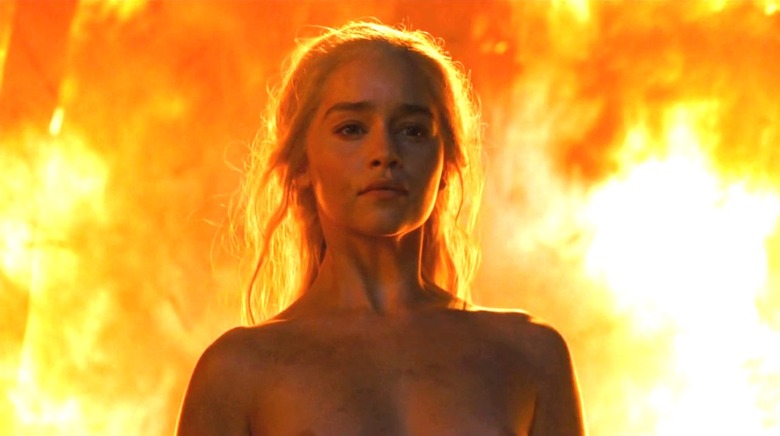 Breaking news. Disney has announced that Game of Thrones star Emilia Clarke has been cast in the upcoming untitled Han Solo Star Wars standalone movie. Hit the jump to learn some details about the Emilia Clarke Han Solo casting.
Disney broke the news directly via the Star Wars website, announcing that that "Clarke, known for her stirring portrayal of Daenerys Targaryen in Game of Thrones, will join the upcoming untitled Han Solo Star Wars movie." They don't reveal much about what character she might play other than saying that "Clarke's role will round out a dynamic cast of characters that Han and Chewie will encounter on their adventures.
I'm not a big fan of Clarke, but I'm also not an avid fan of Game of Thrones like everyone else on this planet. The actress has been nominated for three Emmys for her appearances on the hit HBO series, and she starred in the failed Terminator sequel Terminator Genisys.
Earlier this month we heard that that Tessa Thompson, Zoe Kravitz, and Naomi Scott were among the actresses testing for the female lead role, suspected by some to be the comic book character and Han Solo's future "wife" Sana Starros. I wonder Clarke's character is a different role or if Disney decided to go a different way from the diverse group of actresses they were looking at. Variety's Justin Kroll believes it is for the same female lead role.
Some fans might jump to the conclusion that Emilia will be playing a young Leia Organa, the role made famous by Carrie Fisher in the original trilogy and Force Awakens. But this film is expected to be set before the events of A New Hope, and I somehow doubt Han Solo ran into Organa in the decade preceding meeting Luke Skywalker. Besides, just last week Stranger Things star Millie Bobby Brown made it public that she wanted to play Princess Leia, and I think these photos show she would be an excellent choice:
Brown would make an uncanny young Princess Leia. Age gap between her & Ehrenreich is only one year more than the gap between Ford & Fisher. pic.twitter.com/qcB5TkMdAA

— GeekTyrant (@GeekTyrant) November 14, 2016
Clarke, of course, joins the previously announced cast which includes Alden Ehrenreich as infamous smuggler Han Solo and Donald Glover as Lando Calrissian. The film was written by Jon Kasdan with his father and Force Awakens/Empire Strikes back writer Lawrence Kasdan, and will be directed by Phil Lord and Christopher Miller, of The LEGO Movie and Jump Street fame. Cinematographer Bradford Young has teased that the film will be brave and a different story than what we may be expecting.
The Han Solo movie doesn't yet have an official title, either they'll go with something creative and Star Wars book sounding or something boring and obvious like Han Solo: A Star Wars Story. The film is set for a May 25th, 2018 release date.