'Justice League' Will Feature Green Lantern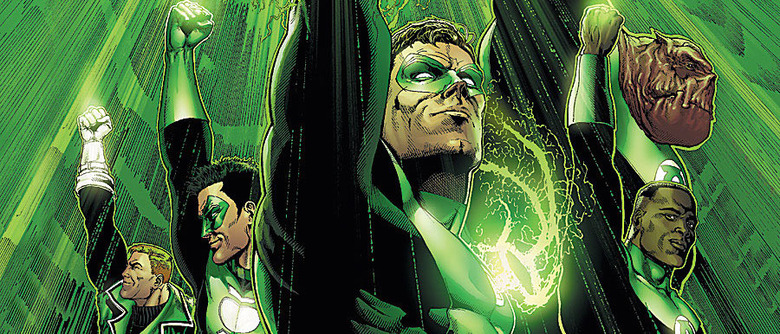 Of all the films announced so far for Warner Bros.' DC Extended Universe franchise, none is more mysterious than Green Lantern Corps. Though it was officially announced last year, with a 2020 release date locked in and everything, we know next to nothing about the project — not who'll star, not who'll write or direct, not even which Green Lantern(s) will be in the movie.
But it sounds like that'll start to change soon. According to a new report, next year's Justice League will be the first DCEU film to feature a member of the Green Lantern Corps. More on the Justice League Green Lantern appearance below. 
TheWrap buried the Justice League Green Lantern news in a larger story about the next DCEU movie. They're light on details, revealing only that "a member of the Green Lantern Corps will be seen in Justice League in a key sequence." It doesn't sound like this Green Lantern, whoever it turns out to be, will have a prominent part in the movie. Rather, it'll probably be something like the Flash cameos in Batman v Superman: Dawn of Justice and Suicide Squad, or maybe like Batman's small part in Suicide Squad.
Keep in mind that Warner Bros. hasn't officially confirmed the Justice League Green Lantern appearance and that it's still early enough for things to change. But honestly, at this point, I was starting to think Warner Bros. had forgotten they were even planning to make a Green Lantern Corps movie. This is a bit of reassurance that the project hasn't fallen off their radar completely.
A Justice League role means we'll actually get to see the character earlier than previously expected. Justice League producer Charles Roven had said in the past that the character was unlikely to appear before the second Justice League, out in 2019.
The title Green Lantern Corps indicates that the film will bring together multiple members of the Green Lantern Corps, an intergalactic police force founded billions of years ago to protect different sectors of the universe. Some of the better-known Green Lanterns include Hal Jordan, John Stewart, and Guy Gardner and rumors have suggested the movie will feature some combination of those characters.
If a Green Lantern Corps character has indeed made it into Justice League, it shouldn't be too much longer before we get some casting news. Justice League arrives November 17, 2017, and Green Lantern Corps is scheduled for July 24, 2020.