'Better Call Saul' Season 3 First Look: Slippin' Jimmy Is Back, And So Is Cinnabon Gene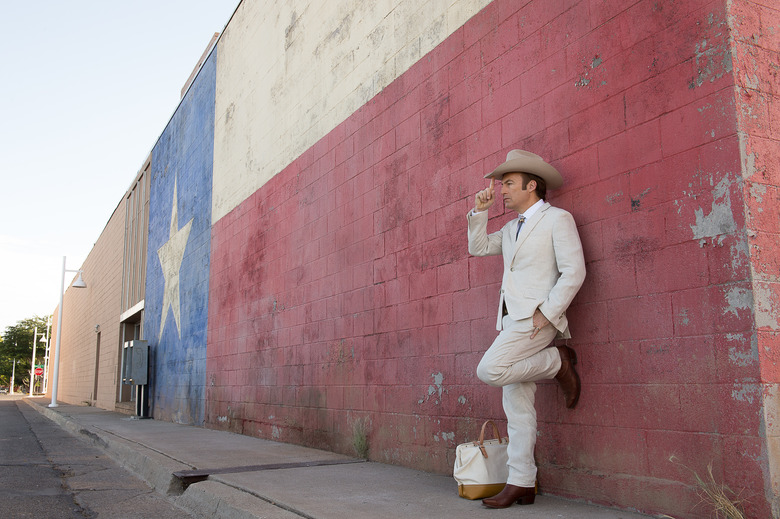 Hours ago we got a peek behind the scenes of Better Call Saul season two. Now we've got a little look ahead at season three, which will premiere in 2017.
As a spinoff to Breaking Bad, one of the most acclaimed TV dramas of all time, Better Call Saul came pre-loaded with massive hype and sky-high expectations. And the show has delivered. Over the course of its first two seasons, Better Call Saul has proven to be a worthy successor and complement to that earlier series — but it's also emerged as its own thing, hilarious and thrilling and surprisingly heart-wrenching. We can't wait to see what's ahead for Slippin' Jimmy, so click on through to see some Better Call Saul season 3 first look photos.
Entertainment Weekly unveiled the Better Call Saul season 3 first look.
The first picture above shows series co-creator Vince Gilligan sitting with star Bob Odenkirk, who's in his Gene getup. So it looks like we can definitely expect a flash forward to Jimmy/Saul's post-Breaking Bad life as an anonymous Cinnabon manager. Everything we've seen of Gene's life so far looks sad and lonely, and his sensible sack lunch isn't really helping to change that perception. But who knows what's to come with this show?
Case in point: the other photo shows Jimmy in the same room as big brother Chuck (Michael McKean), chatting quite amiably despite their relationship becoming mired in mutual betrayal last season. Chuck looks as happy and healthy as he ever has on the show (which isn't saying much, but still), and Jimmy is holding a copy of The Adventures of Mabel for some reason. Is this just the calm before the inevitable storm? Remember, season two ended with Chuck guilting Jimmy into an admission of guilt... which he secretly recorded to use against his brother in court. Yeah, there's no way that ends well.
As for what to expect from Better Call Saul season three, no one's revealing too much just yet. But Mike's plotline seems to be moving toward the introduction of a certain Breaking Bad villain. And perhaps Marie (Betsy Brandt) will finally get her chance to cameo after getting axed from the season two finale. We'll find out more as the spring 2017 season three premiere inches closer.