James Franco Directing Josh Boone-Scripted 'The Pretenders'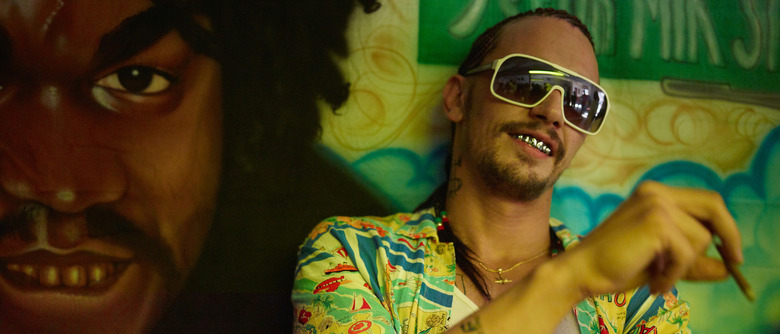 Before Josh Boone's The Fault in Our Stars conquered the box office, one of the projects the busy writer-director wanted to make to was The Pretenders. Boone once described his script as "Carnal Knowledge meets Unbearable Lightness of Being or The Dreamers," which doesn't sound emotionally draining at all. In 2013, the director put together an impressive cast for the project, but due to scheduling, it may have fallen to the wayside. Now, The Pretenders is up and running with a new director, James Franco, and new actors.
Below, learn more about the James Franco The Pretenders project.
The Hollywood Reporter writes Franco and his production company, Rabbit Bandini Productions, are helping to make The Pretenders happen. The 1980s-set story follows two college friends who fall for the same girl. Jack Kilmer (Palo Alto), Shameik Moore (The Get Down), and Jane Levy (Don't Breathe) have signed on to play the three central roles. The Pretenders covers a decade in time, so the fine trio of actors will get to play the three friends/lovers through various stages of their lives. Taking on supporting roles are Brian Cox (25th Hour) and Juno Temple (Vinyl).
Over the years, The Pretenders has attracted some serious talent. At one point, Boone had Michael B. Jordan (Creed), Imogen Poots (Green Room), and the late Anton Yelchin (Green Room) attached to star. From the sound of it, Boone wrote the script with Poots in mind. The two may have met for Boone's directorial debut, Stuck in Love, but Poots, like Boone, fell off the project, which the director planned on making after The Fault in Our Stars.
Take it with a grain of salt, but it looks like The Pretenders was in development in a different for up until a month ago. A casting call, which went out for "all types in the 1970s and 1980s" listed Evan Peters (American Horror Story) and Keith Stanfield (Selma) as the stars. Boone isn't name-checked in the casting call, so maybe he departed from the director's chair earlier than last month.
Boone has been incredibly busy these days, with brewing adaptations of Stephen King's The Stand, the X-Men spinoff Young Mutants, and Interview with Vampire in the works. The word is Young Mutants is aiming to begin production early next year, so maybe that comic book movie played a role in Boone leaving his somewhat dark, Mike Nichols-inspired love story in Franco's hands.