'The Crow' Flies Away From Relativity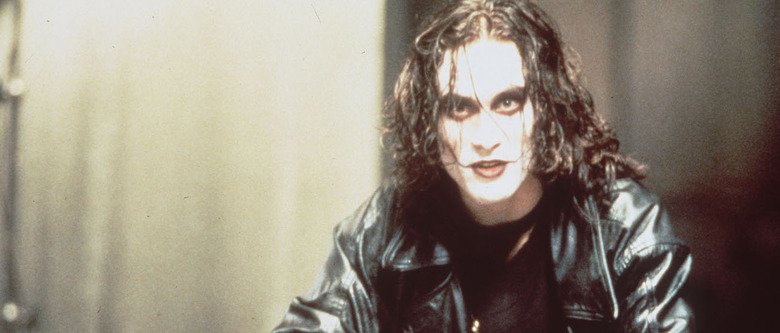 The tragic saga of Relativity's The Crow reboot continues, this time with an unexpected twist: it's not actually Relativity's The Crow reboot anymore. The project has left its longtime nest at the studio, landing now with Davis Films, Highland Film Group, and Electric Shadow.
Edward R. Pressman, who produced the 1994 movie starring Brandon Lee, remains on board to produce the new film. However, it's unclear what this means for director Corin Hardy and star Jason Momoa, who are the latest in a long, long line of director/star combos who've tried to get The Crow off the ground.
THR writes that the three companies have joined forces to finance, produce, and distribute the reboot, now going by the title The Crow Reborn. Davis' Samuel Hadida will produce with Pressman and Relativity CEO Ryan Kavanaugh will serve as executive producer. As previously reported, the new film is expected to be a more faithful adaptation of James O'Barr's graphic novel than Alex Proyas' 1994 film was.
The latest iteration of the project nearly fell apart last year thanks to Relativity's bankruptcy filing. Hardy, who'd signed on in 2014, almost walked away at that point. He ultimately stayed on, only to eye the exit again earlier this year when Relativity ran into legal troubles. Somehow, they managed to keep him around through that rough patch as well, and by August he'd even found a star in Jason Momoa. The Crow looked healthier than ever, and word was shooting would begin in January 2017.
The THR report claims production is still scheduled to begin in 2017, but when exactly will probably depend on whether Hardy and Momoa stick around, or decide that the move away from Relativity is the last straw. No release date has been announced.
The Crow reboot has been through so many stops and starts it's kind of amazing. Before Hardy, F. Javier Gutiérrez, Juan Carlos Fresnadillo, and Stephen Norrington had each taken turns at the helm. Jack Huston, Luke Evans, and Bradley Cooper had all been attached to the lead role at various points. Each year, we got reassurances that the film would start shooting "next year," and then "next year" would always come and go with The Crow reboot no closer to becoming a reality.
The film's chances of actually filming in 2017 will probably depend on whether Hardy and Momoa decide to stick around. Either way, this could be a good thing for the project in the long term if leaving Relativity gives The Crow Reborn the momentum it needs to finally get going. Or maybe this will be the move that finally kills the project for good, in which case everyone unhappy about The Crow Reborn can rejoice.