Taron Egerton's 'Robin Hood' Origin Story Is Coming In 2018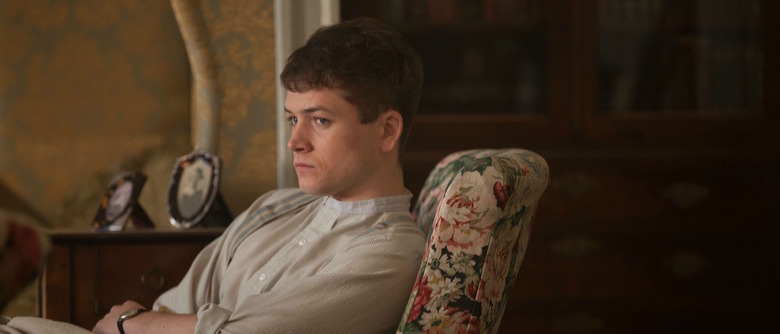 There are currently more Robin Hood movies in development than any one person could reasonably be expected to keep track of. So far, though, few of those projects have actually borne fruit. One that's further along than most is Robin Hood: Origins, which has yet to start shooting but has a director and a script and a cast, which is more than you can say for most of the others. And now it even has a release date.
This Robin Hood movie is the one described as a gritty, revisionist take in the vein of The Dark Knight, with Taron Egerton as the prince of thieves and Jamie Foxx as a "battle-hardened" Little John. Or maybe you'll remember it as the project that almost conflicted with Egerton's Kingsman sequel plans. Anyway, get the Robin Hood: Origins release date details and all the latest updates below. 
Lionsgate has set Robin Hood: Origins to open March 23, 2018, pitting it against Columbia's Peter Rabbit and an untitled animated picture from 20th Century Fox. Also opening that month are Jason Statham's Meg (March 2), Pixar's Wreck-It Ralph sequel (March 9), and Steven Spielberg's Ready Player One (March 30). Robin Hood: Origins will open on regular screens and IMAX screens.
Otto Bathurst (Peaky Blinders) is directing Robin Hood: Origins from a script by Joby Harold (King Arthur: Legend of the Sword). The film has Robin Hood as a soldier returning home from the Crusades, only to discover his beloved Sherwood Forest has been taken over by corruption. He puts together a band of outlaws in order to fight back. Foxx's Little John is also a veteran of the Crusades, but one who fought on the opposite side. Eve Hewson (The Knick) plays Maid Marian, and Jamie Dornan (Fifty Shades of Grey) is Robin Hood's half brother Will Scarlett.
Robin Hood: Origins is produced by Appian Way's Leonardo DiCaprio and Jennifer Davisson Killoran, Thunder Road's Basil Iwanyk, Safehouse's Tory Tunnell and Joby Harold.
Still in development (as far as we know, anyway) are a dystopian version of Robin Hood from the 300 producers, a would-be shared universe from Sony, and yet another "reimagining" from Warner Bros.
Source: Variety